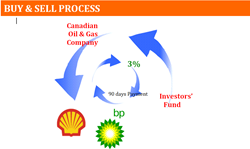 You also don't need to be an expert in crude oil to benefit from this business.
(PRWEB) June 17, 2013
If investing in crude oil sounds like an opportunity only for billionaires like Carlos Slim or Bill Gates, then one of Shenton Energy Asia's goals is to tear down this belief. It aims to bring good news to individuals who have money in the bank, but don't know how to grow it with minimal risk.
"You also don't need to be an expert in crude oil to benefit from this business. Our team and partners are one of the best in the industry who will help your money grow as we intended it to," states Cherine Cheong, the managing director of Shenton Energy Asia.
Partnering with a well-known Canadian energy investment company, Cheong wants to make it known to the region that crude oil investment is a lucrative business opportunity that starts from a few thousand dollars. Every 90 days, its clients will receive 3% of the initial payment, up to 36 months where the startup cost may be paid out as well.
For the more cautious individuals who are keen into getting their feet wet but still contemplating because of the risks involved, WealSol's partnering Canadian company acts on behalf of buyers to protect every dollar spent on crude oil. It keeps check that crude oil is not sold for any more than it should be to protect the interest of clients.
"Our company only offers investment products with high yields and minimal risk. Before taking the leap, we always ensure our clients are making well-informed decisions," claims Cheong.
For more information on how you can get involved in this lucrative business opportunity that is affordable, visit Shenton Energy Asia's website here.