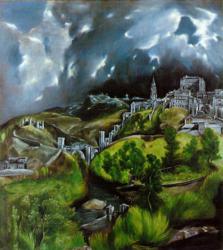 "The most extraordinary painter that ever came along back then" and that he was "maybe three or four centuries ahead of his time."
New York, NY (PRWEB) June 04, 2013
El Greco (1541–1614) was a painter, sculptor, and architect of the Spanish Renaissance. "El Greco" (The Greek) was a nickname, referring to his ethnic Greek origin, and the artist normally signed his paintings with his full birth name in Greek letters, (Doménikos Theotokópoulos). His dramatic and expressionistic style was met with puzzlement by his contemporaries but found appreciation in the 20th century. He is regarded as a precursor of both Expressionism and Cubism. He is best known for tortuously elongated figures and often fantastic or phantasmagorical pigmentation, marrying Byzantine traditions with those of Western painting. He has been characterized by modern scholars as an artist so individual that he belongs to no conventional school. 
El Greco is loved not just by experts and art lovers but also by ordinary people. Epitomizing the consensus of El Greco's impact, Jimmy Carter, the 39th President of the United States, said in April 1980 that El Greco was "the most extraordinary painter that ever came along back then" and that he was "maybe three or four centuries ahead of his time."
The full version of Mighty Mack's Paintings: El Greco App features over 100 images of the paintings from the great master "El Greco".
This App is available for iPod Touch, iPhone and iPad. Optimized for iOS6, retina display and iPhone 5. It allows the users to share images via email, Twitter and Facebook, or save them to camera roll (with no watermarks). Share the artist bio via email. Select favorites. View the images one by one, or enjoy a slideshow.
Enjoy this fantastic visual gallery, share the images with friends, and learn about the artist's life.
Updates Include:

Optimized for iOS 6.1.3
Updated User Interface
New Splash Page
App Requirements:

iPad, iPod Touch or iPhone, with iOS 5.0 or higher
Wifi connection to download the app
An internet connection for sharing images via email, Twitter or FB (no internet connection required to view the App content)
Click here to see the complete collection of Aramis Artists Apps released by Mighty Mack.
Mighty Mack is a leading publisher of distinguished digital products for the consumer and professional markets. The Company leverages newly available digital tools to create, design, and share new ways of consuming information and experiencing the world around us. The company has released a variety of best-of-class Apps, including Advertising Today, Morpheus Dreams, Where2Boss?, Agora Briefcase, Film Today, among many others.
To learn more about Mighty Mack please visit their website at http://www.mightymack.com or email them to press(at)mightymack(dot)com.