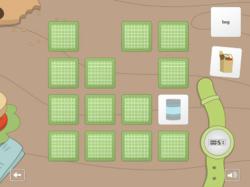 North Salt Lake, Utah (PRWEB) June 28, 2013
Reading Horizons has released its first mobile app, called Card Match. This app helps children learn to read and recognize hundreds of words through interactive matching games.
The app contains over 30 levels at varying levels of difficulty to help children progress with their reading abilities.
"Card Match is a fun and engaging way for children to increase their ability to quickly recognize words while improving working memory," says Curriculum Specialist Stacy Hurst. "Colorful graphics, appealing sound effects, and multiple levels of game play ensure that children of any age will find it hard to put down."
Card Match can be played in over 16 languages, including English, Czech, and French.
"Many children will recognize Card Match as one of their favorite games from the Reading Horizons Discovery software, but it is a great way for any child to reinforce skills necessary for fluent reading," says Hurst. "Card Match makes learning to read fun and exciting!"
Additional games, lessons, activities, and storybooks can be found on the Reading Horizons Discovery software.
The second Reading Horizons app, Whack-A-Word, is coming soon to the App Store for iPad 2 and above.