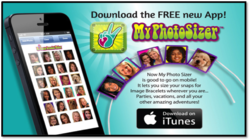 "...blazing the trail for a young techy generation of crafters that are now teaching their parents about the digital crafting phenomena."
Clinton Township, Michigan (PRWEB) June 03, 2013
With summer vacation just around the corner many parents fear for the words, "I'm bored" and are continually encouraging their children to get unplugged and reconnect. However, with iTunes nearing its 50 billionth download, technology shows no signs of slowing down. The Choose Friendship Company has rewritten the language between parents and children, blazing the trail for a young techy generation of crafters that are now teaching their parents about the digital crafting phenomena. This summer debuts three new favorites for the digitally savvy to the campfire kids.
iLove iCrafts!
My Image Bracelet Maker and My Image Button Maker encourage users to personalize their crafts with Myphotosizer.com or the free MyPhotosizer smartphone app. Customize and create one-of-a-kind crafts with photos from the computer, smartphone camera roll, or even Instagram! Instagram has over 16.4 million daily active users and 90 million users that check in each month. This popular photo-editing app can now be brought to life, turning posts into bracelets and buttons! This easy-to-use technology assists crafters in creating a 4x6 printable card with all their own photos!
iCraft for Fashionistas:
My Image Bracelet Maker is the trendiest in personalized fashion jewelry and perfect for children to show off their best friends or for moms to express love for their families. Even better, you can create personalized gifts for those that mean the most to you!
iCraft for those Cute as a Button:
Perfect for those with magnetic personalities! My Image Button Maker has the same easy-to-use MyPhotosizer software to create buttons to pin or magnets to stick! Create buttons of friends, favorite quotes, or simply of what makes you smile.
Campfire Kids:
For those who just can't get enough fresh air My Lanyard Maker is the perfect summer craft. An American pastime that once included trying to hold messy plastic lace, gimp, or scoubidou, has been turned on its head! Summer camp, the beach, or camping; this craft can go anywhere! Make brightly colored plastic bracelets or bendy key chains and backpack charms to wear and share!
A full line of these award winning craft kits can be found at your local craft store and trust me, there's something for everyone! Long gone are the days of "what's there to do?" because the only question will be "what should I make next?" Start encouraging kids to create, craft, and connect! Before you know it they'll be teaching parents to craft via smartphones, Instagram, and laptops!
Key: summer, hot, toys, digital, Instagram, travel, vacation, crafts, DIY, tween, teen, create, craft, connect, fashion.