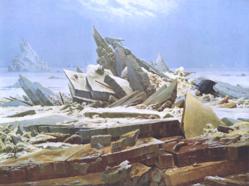 His primary interest as an artist was the contemplation of nature, and his work seeks to convey a subjective, emotional response to the natural world.
New York, NY (PRWEB) June 06, 2013
Caspar David Friedrich (1774 – 1840) was a 19th-century German Romantic landscape painter, generally considered the most important German artist of his generation. He is best known for his mid-period allegorical landscapes which typically feature contemplative figures silhouetted against night skies, morning mists, barren trees or Gothic ruins. His primary interest as an artist was the contemplation of nature, and his work seeks to convey a subjective, emotional response to the natural world. Friedrich's paintings characteristically set a human presence in diminished perspective amid expansive landscapes, reducing the figures to a scale that directs the viewer's gaze towards their metaphysical dimension. He gravitated toward working primarily with ink, watercolor and sepias, and he did not work extensively with oils until his reputation was well established.
The visualization and portrayal of landscape in an entirely new manner was Friedrich's key innovation. He sought to examine an instant of sublimity, a reunion with the spiritual self through the contemplation of nature. He was one of the first artists to use the landscape to express religious themes, mysticism and even political symbols solely by means of the landscape. 
Friedrich's works influenced many Russian painters, the painters of the Hudson River School and the New England Luminists, among others. The early 20th century brought a renewed appreciation of his work, and influenced the Symbolist and Surrealist  painters. His work has been cited as an inspiration by other major 20th-century artists, including Mark Rothko, Gotthard Graubner, Gerhard Richter, HA Schult  and Anselm Kiefer.
The full version of Mighty Mack's Drawings: Friedrich  App features 69 drawings by the great Caspar David Friedrich. 
This App is available for iPod Touch, iPhone and iPad. Optimized for iOS6, retina display and iPhone 5. It allows the users to share images via email, Twitter and Facebook, or save them to camera roll (with no watermarks). Share the artist bio via email. Select favorites. View the images one by one, or enjoy a slideshow.
Enjoy this fantastic visual gallery, share the images with friends, and learn about the artist's life.
Updates Include:

Optimized for iOS 6.1.3
Updated User Interface
New Splash Page
App Requirements:
iPad, iPod Touch or iPhone, with iOS 5.0 or higher
Wifi connection to download the app
An internet connection for sharing images via email, Twitter or FB (no internet connection required to view the App content)
Click here to see the complete collection of Aramis Artists Apps released by Mighty Mack.
Mighty Mack is a leading publisher of distinguished digital products for the consumer and professional markets. The Company leverages newly available digital tools to create, design, and share new ways of consuming information and experiencing the world around us. The company has released a variety of best-of-class Apps, including Advertising Today, Morpheus Dreams, Where2Boss?, Agora Briefcase, Film Today, among many others.
To learn more about Mighty Mack please visit their website at http://www.mightymack.com or email them to press(at)mightymack(dot)com.