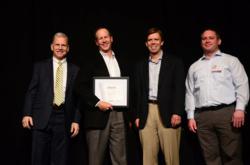 "Winning this Guildmaster Award with Distinction as a result from the feedback of our satisfied customers is validation that we are succeeding in our mission." - Rick Wuest, President Thompson Creek Window Company
Lanham, MD (PRWEB) June 11, 2013
Thompson Creek Window Company, a leading home improvement replacement product manufacturer headquartered in Lanham, Maryland has been awarded a 2013 Guildmaster Award with Distinction for exceptional customer service. GuildQuality, an independent customer satisfaction surveying company, has powered the Guildmaster Award with Distinction since 2005 to celebrate service excellence in the building, remodeling, contracting, and home services professions.
The primary requirement for receiving a Guildmaster Award is exemplary customer service, as demonstrated by an extremely high customer recommendation rate. Thompson Creek Window Company was selected as one of the over 200 North American builders, remodelers, developers, and contractors recognized by GuildQuality for their superior delivery of customer care.
Over the past few months, GuildQuality reviewed numerous survey responses submitted by customers of Guildmaster candidates. In granting awards, GuildQuality considers two primary metrics for each candidate: the percentage of customers who would recommend and the percentage of customers who responded. In order to qualify for this award, the provider must achieve a recommendation rate of 90% or greater.
Rick Wuest, president and CEO of Thompson Creek, was proud to be honored as one of this year's Guildmaster Award with Distinction winners. "Total customer satisfaction is the driving force behind how every Thompson Creek employee performs their job," Wuest remarked. "Winning this Guildmaster Award with Distinction as a result from the feedback of our satisfied customers is validation that we are succeeding in our mission." For more on the 2013 Guildmaster Award with Distinction and qualifications, visit http://www.guildquality.com/guildmaster/.
About Thompson Creek Window Company
The Thompson Creek Window Company is a privately owned and family-operated manufacturer and installer of energy-efficient home improvement replacement products. Founded in 1980, Thompson Creek Window Company began as a manufacturer of energy-efficient, maintenance-free vinyl windows. Since that time, Thompson Creek Window Company has evolved into one of the leading specialty home improvement contracting companies in the nation. The company's product mix includes replacement windows and doors, vinyl siding and a clog-free gutter system. Thompson Creek Window Company is headquartered in Lanham, MD with an 80,000 square-foot manufacturing facility in Landover, MD.