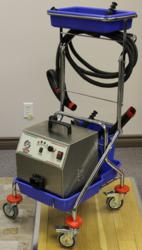 New Milford, NJ (PRWEB) June 04, 2013
Steam cleaning a vehicle's paint surface has proven to be more effective than buffing.
Kleen Car of New Milford, NJ has partnered with 2 major car manufacturers, in using steam to clean surface contamination on a new vehicle's paint surface. Kevin Farrell of Kleen Car has had a long association with them. He has developed detail training programs and has implemented products and equipment in their dealerships and training centers.
A key piece of equipment, the Vapor Chief steam cleaner has been used for car detailing for many years. The Vapor Chief has been used for interior cleaning on a car at their training centers and dealerships. The performance and effectiveness has proven to be faster, more cost effective and superior to old fashion cleaning.
A new use for steam on cars
At one training facility, the vapor Chief steamer is used in the detail training classes that were developed by Kleen Car. The neighboring Vehicle Distribution Center saw the steamers in use and subsequently called Kevin and inquired about what else it could be used for. Kevin, along with the plant manager, formulated a procedure to clean the paint surface with steam to remove surface contaminants. The previous procedure involved clay which is slightly abrasive, along with buffing the paint surface which is also abrasive. These methods also took considerable more time.
The new method involving steam on the entire paint surface dissolves the surface contamination and eliminates the need for clay and buffing and possibly scratching the paint or leaving buffer swirls. They knew that to use a steam cleaner on the exterior pain surface, they would need a machine that was powerful, could be used continuously without stopping to refill, and would handle the hours upon hours of use. Farrell knew the Vapor Chief could handle the workload and be powerful enough to do it.
A few test cars were gathered and the team, led by Farrell's guidance showed the procedure to steam the paint. The Vapor Chief proved to be the perfect machine to handle this new way of cleaning the paint. It worked perfectly. There were no marks, scratches, or hazing and the time savings, along with money savings has been enormous
What works for one, works for another
The people at one car manufacturer knew some folks at another manufacturer. They had heard about this new steam cleaning process and were curious to see how it worked. A demonstration was set up with a Vapor Chief leading the way, and the results were fabulous on the other vehicles as well. Soon thereafter, this plant was ordering Vapor Chief Steam cleaner for use in various vehicle distribution centers. The unique process saves labor time, materials and gets rid of surface contamination without damage.
Kleen Car has plans to introduce this process and of course, the Vapor Chief, to other car manufacturers. For commercial cleaning applications such as this, it will take a commercial steam cleaner that can handle the challenge. Anything to do with cleaning a car is a difficult job considering the many surfaces and accumulated dirt and grime that cars have. Car dealerships, car washes, auto detail shops, and car rental agencies have found the Vapor chief steam cleaner is the one they choose to get the dirty jobs done.