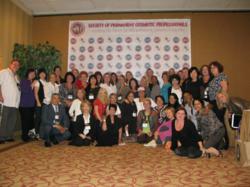 SPCP events provide excellent continuing education for permanent cosmetic professionals.
Des Plaines, IL (PRWEB) June 12, 2013
The 22nd Annual SPCP conference will be held for permanent cosmetics professionals at the Four Points by Sheraton French Quarter, September 28-29, 2013. As is standard at the SPCP conventions, Train the Trainer will precede the main event on September 25-26th. The Trainer Summit, which returns this year for existing trainer members and those interested in training, is September 27. Members can register in advance for the SPCP certification examination; the CPCP exam is Saturday, September 29, 2013. Included with the conference is the industry specific Bloodborne Pathogens course and exam. The fall conference will include the following topics:

Brow Basics- Pre-procedure Through Design
Body Ergonomics- Working with a Healthy Body
Needles- Then and Now
Facial Fillers- The latest Craze to Affect Permanent Cosmetics
Bloodborne Pathogens Course and Exam
Pigment Formulation- A Look into the Laboratory
Eyeliner Creations and Case Studies
The SPCP will host the fall event in New Orleans at the Four Points by Sheraton French Quarter in the heart Bourbon Street. Help support the SPCP by staying at the conference hotel. More hotel and registration details will be available soon. All permanent cosmetic technicians are encouraged to join the SPCP and attend events. Make plans now to head to New Orleans on September 28 and 29th to continue your education, meet new colleagues, and enjoy the wonderful food and history this city has to offer.
Conference Dates: September 29-29, 2013
Four Points By Sheraton French Quarter
541 Bourbon Street New Orleans, LA
(504) 524-7611
Rooms available for $139 per night plus tax, under the SPCP room block.
For complete details and registration information visit: http://spcp.org/conference.htm
About the Society of Permanent Cosmetic Professionals.
The Society of Permanent Cosmetic Professionals was founded in 1990 and is the largest non-profit professional association in the United States and internationally for the permanent cosmetics industry, also known as permanent makeup. The SPCP is dedicated to promoting permanent makeup safety, excellence, and professional standards by providing education, certification, and industry guidelines.
###
If you would like more information about this topic, or to schedule an interview with Kate Ciampi, CPCP, please call the SPCP at 847-635-1330 or email spcp-admin(at)comcast(dot)net