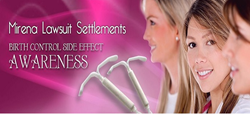 Women should be compensated for what they have had to endure.
Houston, Texas (PRWEB) June 16, 2013
Darren A. Miller of leading law firm D. Miller & Associates says that published data regarding the popular Mirena intrauterine contraceptive device includes troubling statistics.
According to a May 21, 2013 news story by ABC News affiliate KNXV-TV in Phoenix, the U.S. Food & Drug Administration (FDA) has logged 59,229 reports of adverse reactions by users of the device since 2004. The KNXV-TV story notes that the data covers the period from November 1997 to August 2012, and that complications reported include abdominal pain, expulsion and uterine perforation.
Included in the story is an FDA warning on the risks of "embedment in the myometrium and perforation of the uterine wall or cervix."
"Such troubling statistics are behind the Mirena lawsuits* and ever more women are coming forward," says attorney Miller. "The harm allegedly suffered because of the device should not be ignored. These women deserve compensation for what they have been through."
"If you have experienced any of the above complications including perforation, embedment, or migration of the device, then please call us. We continue to help as many women as we can—get the justice they deserve," adds lawyer Miller.
About D. Miller & Associates, PLLC
Founded in 2002 by attorney Darren A. Miller, D. Miller & Associates, PLLC is a premier national law firm with practice areas in personal injury, asbestos and mesothelioma, defective drugs and devices, and business and criminal law. Based in Houston, Texas the attorneys at D. Miller & Associates have successfully earned their clients compensation through aggressive litigation against even the most powerful of defendants.
For a free legal consultation contact the firm at 1-855-PRO-LAWYERS or at marketing(at)dmillerlaw.com. For more information visit their website at http://www.dmillerlaw.com.

In Re: Mirena IUD Products Liability Litigation, MDL No. 2434 Southern Dist. of New York