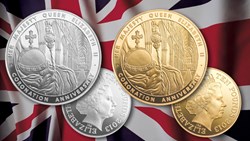 (PRWEB) June 04, 2013
New York Mint®, a leading source and direct marketer of high-value collectible coins, was recognized as The Royal Mint's exclusive U.S. distributor of First Strike gold, silver and platinum legal tender coins commemorating the 60th Anniversary of Queen Elizabeth II's Coronation to the throne. The historic coronation of Queen Elizabeth II took place on June 2, 1953 when she took her oath in front of 8,000 guests which included prime ministers and heads of state from around the Commonwealth. Queen Elizabeth was only 25 years old when she acceded to the throne and has become only the second monarch in history to achieve the 60th Anniversary milestone. To honor this poignant time in British history, The Royal Mint has designated New York Mint as the exclusive U.S. distributor of First Strikes for these Coronation commemorative coins including the 2013 Kilo Silver Coronation Proof (99.99% fine silver), 2013 3 oz. Platinum Piedfort Coronation Proof (99.95% fine platinum), 2013 5 oz. Gold and Silver Proofs (99.99% fine gold and silver), 2013 4-coin Royal Piedfort Portrait Proof Sets (92.5% fine silver), 2013 4-coin Gold Royal Portrait Proof Sets (91.7% fine gold) and 2013 4-coin Silver Royal Portraits NGC Proof 70 Sets (92.5% fine silver).
The Royal Mint is the official mint of the United Kingdom and is legendary for their unsurpassed craftsmanship of its Proof coins and medallions. The Mint strikes coins in a range of sizes; the Kilo represents the largest legal tender coin. The Silver Kilo, along with the other Coronation coins were certified and encapsulated by NGC (Numismatic Guaranty Corporation) in Proof 70 (PF70) or Proof 69 (PF69) conditions. The obverse of the 4-coin Royal Portrait coins adorn a portrait of Queen Elizabeth II and each coin or coin sets captures the Queen at various stages of her reign as queen from her early years as a new monarch in her twenties to present time. This is unprecedented because never before has The Royal Mint offered all four portraits of Queen Elizabeth II in one set. The reverse of the Coronation coins vary from the Royal Arms of the monarch to a feature of the State Crown Queen Elizabeth II wore as she left Westminster Abbey following the coronation ceremony.
New York Mint and The Royal Mint have been working together for over 20 years, and New York Mint has been and continues to be a top seller of The Royal Mint products. As a result of this long-term success, New York Mint has secured the much coveted First Strikes of these already low mintage Coronation coins. The quantities of First Strikes available to New York Mint customers differ based on the specific Coronation coin or Proof set, quantity are as small as one up to 500, thus making these commemorative coins extremely limited.
"New York Mint has had the pleasure of working with The Royal Mint for over 20 allowing U.S. coin collectors an opportunity to own coinage from this world renowned Mint. We are thrilled to celebrate Queen Elizabeth's 60 years on the throne alongside The Royal Mint and exclusively offer U.S. coin collectors an opportunity to own the First Strikes of Queen Elizabeth's 60th Anniversary Coronation and a part of history," said New York President Bill Gale.
New York Mint and The Royal Mint have worked on other historic programs together including the London Olympics coin program where New York Mint was the exclusive U.S. distributor for the 2012 Olympic Games.
About New York Mint
Since 1984, New York Mint, LLC® has been a private distributor of coin and currency issues and privately issued licensed collectibles. New York Mint provides collectors with one-stop access to some of the finest quality, rarest and most sought-after coins from worldwide government mints, shipwrecks, ancient hoards and exotic locales. The treasures secured by New York Mint span historic eras from ancient times, through the American Civil War, and up to the most contemporary milestones and events. New York Mint partners with the Smithsonian Institution®, government mints and monetary authorities, distributors and wholesale dealers worldwide. Recently, they were U.S. distributors for the London 2012 Olympic Games Coin Program. For additional information, visit http://www.NewYorkMint.com or call 800 642 9160.
Source: New York Mint
Contacts
Business Development: Sara Fehrenbacher (sfehrenbacher@amsi-corp.com) + 1 952 707 7296