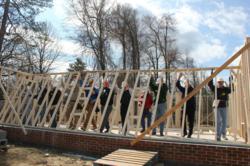 Greensboro, NC (PRWEB) June 01, 2013
The dedication of the 25th Anniversary House celebrates Habitat for Humanity of Greater Greensboro's 25 year ministry of bringing together people of all faiths to build quality, affordable homes and thriving neighborhoods where families can build better lives. A total of 10 community sponsors- corporate, faith and nonprofit have contributed to the build. The dedication ceremony will take place in the Village at Northside neighborhood: 1512 Village Crest Drive on June 6th at 11:30 a.m.
The 25th Anniversary sponsors worked alongside Ergetu Abate and Tenaye Beza, the new Habitat homeowners. A number of building events contributed to the completion of this house including a CEO/Executive build in March, where a wall was raised during the kick-off festivities and in May members from the Junior League of Greensboro volunteered during National Women Build Week. The new Executive Director/CEO of Habitat for Humanity of Greater Greensboro, Dr. Maria Hanlin, will deliver the opening remarks at the dedication. This will be her first Habitat event in Greensboro.
Habitat for Humanity of Greater Greensboro's 25 year existence in the Greensboro community has had a huge impact on more than 400 families in Greensboro. "When Habitat volunteers build in partnership with families in need, they not only create a solid, affordable house structure, but, because of the stability a decent home provides, they renew hope in the hearts of those families and establish a promising foundation from which parents and children can better prepare for the future," says Habitat International CEO, Jonathan Reckford.
The 25th Anniversary House has been made possible through the generous support of these 10 sponsors: The C12 Group, Carolina Bank, Columbia Forest Products, Cone Health, Crown Automotive, First Baptist Church, Junior League of Greensboro, Replacements, Ltd., The Fresh Market and Wells Fargo.
About Habitat for Humanity of Greater Greensboro
Habitat Greensboro was formed in 1987 by four members of the Greensboro community in response to their Habitat experience in Peru. Twenty-five years later, Habitat Greensboro has expanded to more than 5,000 volunteers who help to build, renovate or provide critical repairs to 30 to 35 homes each year and work in these neighborhoods to help build playgrounds and community gardens. Habitat of Greensboro serves as a coach, catalyst and collaborator as they assist homeowners in their neighborhoods.
About Habitat for Humanity International
Habitat for Humanity International is a global nonprofit Christian housing organization that seeks to put God's love into action by bringing people together to build homes, communities and hope. Since 1976, Habitat has served more than 600,000 families by welcoming people of all races, religions and nationalities to construct, rehabilitate or preserve homes; by advocating for fair and just housing policies; and by providing training and access to resources to help families improve their shelter conditions.