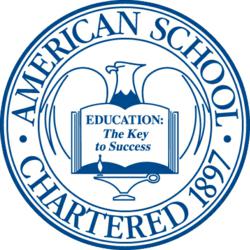 Lansing, IL (PRWEB) June 04, 2013
The American School is pleased to exhibit at the Home Educators Association of Virginia Convention this weekend in Richmond. Attendees are invited to stop by the American School's booth at the Richmond Convention Center on Thursday, June 6, from 5-9 p.m.; on Friday, June 7, from 9:30 a.m.-8 p.m.; and on Saturday from 9:30 a.m.-6:30 p.m. to learn more about the American School's accredited high school courses and diploma programs.
A leader in distance education since 1897, the American School offers two separate high school diploma programs. The General High School Program is designed for students who wish to join the workforce or attend community college after graduation. The College Preparatory Program is designed for students who wish to attend the college or university of their choice after earning their diploma. Both programs contain 18 units of credit with ample room for electives. In addition to the two diploma programs, the American School also offers individual courses for personal enrichment. In total, the School offers more than 70 courses, many of which are available in both print and online formats.
For more information about the American School, call 866-260-7221 or visit http://www.americanschool.org.