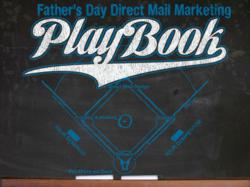 We created the Father's Day Direct Mail Marketing Playbook because we hate to see so many businesses resign themselves to lackluster sales
Los Angeles, CA (PRWEB) June 10, 2013
Summer means sales slumps for many small businesses, so most entrepreneurs simply warm the bench until fall rolls around. But playing it safe during the 7th inning stretch makes doubling down on the holidays mandatory. Instead of bunting through the slow season, aim for the bleachers with a heavy hitting Father's Day direct mail marketing campaign! Online printing and mailing company PrintFirm.com urges everyone from retail outlets to restaurants to man up this June and put some muscle in their marketing.
"We created the Father's Day Direct Mail Marketing Playbook because we hate to see so many businesses resign themselves to lackluster sales," explains PrintFirm marketing director Katherine Tattersfield. "We want to inspire business owners and show them how to get a solid return on investment through multi-channel marketing."
Click Here To Get the Father's Day Direct Mail Marketing Playbook
The playbook helps businesses position themselves for success as soon as they hit the field. Stepping up to the plate equals an automatic single because it takes guts to swing against the odds. But rounding the rest of the bases poses a much bigger challenge.
First base represents the strategy phase. The key at this stage is to develop a plan that covers the business from every angle. The challenge requires business owners to come up with a promotion that tailors the content to dads directly or the people shopping for them i.e. moms and kids. These considerations shouldn't be taken lightly as they determine the campaign's direction. For example, a steak house could print custom gift certificates along with a special menu mailer to entice wives to treat their husbands to dinner. A sporting goods store might opt for a flyer with a blank trophy kids can color in and give to their fathers as presents.
These Father's Day marketing ideas will raise brand awareness and build loyalty, but those with bigger goals can knock one out of the park by hosting an in-store event. The event doesn't have to be anything fancy, but the same old annual tie sale won't get companies much closer to home. To generate fresh leads and foot traffic, businesses need an angle beyond the usual discounts. Consider raffling off a stainless steel grill or letting a local photographer set up space for family portraits. Whatever the concept, be sure to create an in-store display with Father's Day banners for decoration. The direct mail tie in here would be event ticket printing or personalized invitations to guests in the neighborhood.
When the strategy session is complete, the business is ready to round second base. It's time to design the direct mail campaign in a way that speaks to the audience and moves them to action. The more creative the concept, the better the response rates will be. Size matters, so select larger size postcards, folded brochures, or manila envelopes for maximum impact. Research shows that personalization improves direct mail results tenfold. Small businesses can use this to their advantage by sending out multiple mailers and comparing the data. If the business doesn't already have an opt-in mailing list or wants to reach new prospects, the EDDM tool from the USPS helps locate consumers by geographic area. As far as the graphics go, be sure to use a predesigned postcard mailing template in compliance with current postal regulations. From there, the business owner just needs to follow the rules learned in basic training:
Shapes and Paper Selection- Print marketing works because it's tangible. Give customers something unusual to the touch, such as unique die cuts, folds, and fancy textured paper.
The Principle of Simplicity- Clutter is deadlier than a 100 mile an hour fast ball. Focus on function; form is secondary.
Compelling Call to Action- Well-crafted copy is as important as stunning visuals. Communicate with recipients the way a third base coach relays messages from the sidelines. Send clear, concise signals that tell the prospects exactly what to do after getting the mailer, and give them a strong incentive to follow up.
Add a Landing Page URL and Separate Phone Number – Track the print marketing campaign results on the web through dedicated landing pages optimized for conversions. Replace the regular business phone number with a new line made exclusively for incoming leads from the Father's Day mailers.
Now comes the easy part: 3rd base is all about bringing the campaign to life through printing and mailing services. Note: Businesses may get stuck on 2nd if they don't have an in-house creative department. Small and medium sized businesses finding themselves in this pickle shouldn't feel trapped because professional designers are available to help companies sprint their way closer to home.
As soon as the print materials arrive in the mail, it's time to slide into home. Don't forget to dust off the plate before the Father's Day guests arrive!
About PrintFirm.com
PrintFirm, Inc., trusted leaders in online commercial printing since 1996.