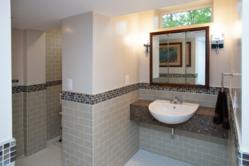 "I immediately called and scheduled an appointment with an amazing kitchen and bath designer." - Christine Friedrich
Falls Church VA (PRWEB) June 04, 2013
A tiny home addition no bigger than a vanity cabinet transforms an inaccessible bathroom into a beautiful accessible bathroom for couple in Falls Church VA.
John & Christine were struggling with Multiple Sclerosis (MS) an autoimmune disease that affects the brain and spinal cord. John and Christine bought their split level home in 1998. They both worked for the Department of Defense where they met back in 1980. In 2007, John explained to Christine that he was experiencing a weird tingling on his right side and extraordinary fatigue in his back. Eventually they went to see a neurologist. The doctor had answers but not the kind anyone wants to hear. No one suspected MS initially; "It does not typically afflict a man in his late 40's," Christine said.
Last fall, 15 years after diagnosis John and Christine were fighting. They were fighting the disease, but they were also fighting a house which was not cooperating with John's needs. Christine said, "We waited before renovating. In part because we really had no comprehension of what could be done. You think you're sort of stuck with what you have. Our floor plan did not lend itself well to our new-found circumstances."
Don't Let Your House Dictate How You Live In It
Christine: "I was searching the web when I ran across this story about Carl and Oscar. Carl was confined to a wheel chair trapped on his main level just like John was trapped on our lowest level. Twin companies Signature Kitchens Additions & Baths and Signature Elevators & Accessible Design transformed Carl and Oscar's house and transformed their lives. I immediately called and scheduled an appointment with an amazing kitchen and bath designer."
Last month Signature Kitchens Additions & Baths finished John's new bathroom. To say it was transformative would do the remodel injustice. Signature built the smallest house addition it has ever built. A home addition just three feet deep and four feet wide; but an addition which made all the difference in the world. Instead of a cramped toilet bordered by vanity and door, the toilet now had enough space between it and the door for a wheelchair so John could transfer "slide over" from wheelchair to toilet.
The vanity no longer abutted the hall way entry it was recessed in the addition. This gave John a 48" turning radius, a commercial standard. The shower was in the same place but the doorway had been widened from 28" to almost 36". Imagine a country road vs. a super highway. Moreover, it was now properly plumbed and beautifully finished. The shower controls were located at the shower entrance, so John could adjust the water before getting in. Strategic grab bars allow John to pull himself from the chair to the shower bench or onto a shower chair. Extra lighting and a powerful fan are for John simply more important than most of us could imagine.
John: "The bathroom remodel makes all the difference to me. I have my independence back. From the simple to the complex; the widening of the doorways to 36"from the original 28", the ability to wheel my chair directly to the vanity so my chair and knees slide under. That allows me to shave and groom myself. It is hard to describe what that means, …it means quite a lot to me!"
Uncommon Utility Hidden Behind Great Bathroom Design
Christine: "The bathroom is so beautiful—the tile design, the layout; most people would never guess it was designed for someone in a wheelchair. They would simply think this is a really spacious and well-designed bathroom. That was exactly what I wanted, utility hidden by great design. The designers and the installers at Signature Kitchens Additions & Baths are very, very creative problem solvers; in addition, to understanding everything the average kitchen and bathroom design build company would understand."
1. Signature Kitchens Additions & Baths represents Medallion Cabinetry (semi custom), Dura Supreme Custom Cabinetry and Jay Rambo Cabinetry (furniture grade).
2. Signature Kitchens Additions & Baths is an Amtico dealer, Marmoleum dealer, US Floors dealer as well as ..
4. Signature Kitchens Additions & Baths is a GE & Kitchenaid Appliance dealer as well as a AGA, Gaggenau, Turbo Chef and Dealer.
Signature Kitchens Additions & Baths as well as it's sister company Signature Elevators & Accessible Design are located at 850 E Gude Drive, Rockville MD 20850. The companies are licensed Design Build Remodeling Contractors in MD, DC & VA. "It may be old school but we do most of our work with in house designers and craftsmen. Many of whom have been with us for ten years or more. We just get better people & better results" says owner Gary Case. The Signature companies can be reached at 301-251-1880, info(at)signaturekab(dot)com, info(at)signatureelevators(dot)com,on their Facebook Fan Page, or stop by there 4,000-square-foot interactive showroom in Rockville MD.