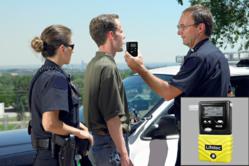 Wheat Ridge, Colorado (PRWEB) June 04, 2013
Lifeloc Technologies, a leader in the manufacture of portable breath alcohol testing devices is pleased to announce the addition of Glen L. Campbell to the position of Business Manager, Law Enforcement and Corrections.
Glen is well known to many in the Law Enforcement evidential breath alcohol testing community having previously worked at National Patent Analytical Systems, Inc., a manufacturer of infrared breath alcohol testing devices, where he was responsible for both international and domestic sales and marketing.
Barry Knott, president of Lifeloc Technologies, said "The continued success of our Law Enforcement and Corrections businesses have created the opportunity for experienced segment specialists like Glen to champion our growing portfolio of breath alcohol testing solutions, including a new generation passive alcohol screener, automatic breathalyzer calibration equipment and 24 X 7 sobriety breath testing kiosks."
"Lifeloc has a commitment to the development of affordable new breath alcohol testing solutions that can be game changers for Law Enforcement. Lifeloc is bringing new approaches to the important work of keeping our roads safer from alcohol impaired drivers that have the potential of really making a difference for law enforcement and corrections," said Campbell.
Glen has a Bachelor's degree from Ohio State University and an Associate's degree in Mechanical Engineering.
About Lifeloc Technologies
Lifeloc Technologies (http://www.lifeloc.com) is a trusted international provider evidential breath alcohol testers, automated calibration equipment, and passive alcohol sensors. Lifeloc offers comprehensive online and classroom training, plus a complete line of supplies and drug screening products. Lifeloc evidential and screening devices are approved by the U.S. DOT and other state and international regulatory agencies. More information about Lifeloc is available at http://www.lifeloc.com.
Forward Looking Statements
The statements in this press release, relating to future plans, future events or products and services, are forward-looking statements which are subject to specific risks and uncertainties. These could involve particular market trends, competition factors and other risks described in documents submitted to the U.S. Securities and Exchange Commission. The actual results, events, products and services may vary significantly from the forecasts. The reader is warned not to rely on these forward-looking statements without reservation, since these are simply reflections of the current situation