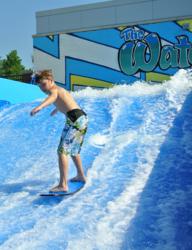 Carmel, Indiana (PRWEB) June 04, 2013
Thinking about your 2013 family vacation? Consider Carmel, Ind. where The Waterpark is open and the surf is up!
Named the "Best Place to Live in America" by "Money Magazine" in 2012, the friendly city welcomes visitors to the amenities they love: Great theatre, dining and family fun. The addition of the FlowRider® to Carmel Clay Parks & Recreation's Waterpark last year (Indiana's only stationary surf ride) has made Carmel, Indiana an increasingly popular destination for families. Visitors come to surf the waves, relax in the lazy river, cool off on the Adventure Slides, and catch an adrenaline rush as they drop down the Plunge Slide. This is one outdoor aquatic experience unmatched in the region!
Tucked away in the natural setting in Carmel's Central Park, The Waterpark includes a 3.5-acre outdoor aquatic wonderland for individuals of all ages, levels and abilities, including an extensive adaptive program for those with special needs including zero-depth entrances, accessible lifts in the lap/activity pool, dive well, and catch pool, a water wheelchair and accessible inner tubes for the Lazy River.
Open from 11 a.m. -7 p.m. Monday thru Thursday and 11 a.m. – 8 p.m. Friday thru Sunday, with a capacity of 2,098, The Waterpark is home to 10 exciting features:

FlowRider®
Zero-depth activity pool
Interactive water features
Water play structure
Lap Pool with six 25-meter lanes
Tot slide (must be under 48" tall)
1/8-mile Lazy River
Two large water slides (must be 48" tall)
One-meter diving board
Plunge Slide (must be 48" tall)
General admission to The Waterpark is just $10 for adults and $6 for youngsters ages 3 to 15 and seniors. Admission also allows access to the Monon Community Center, a 146,000-square-foot recreation facility adjacent to The Waterpark featuring an indoor aquatics area, fitness center, three-court gymnasium, and KidZone (childcare). In addition, more than five miles of natural hiking trails surround The Waterpark and Monon Community Center with easy access to the adjacent trails and Monon Greenway.
About Carmel Clay Parks & Recreation
Carmel Clay Parks & Recreation (CCPR) serves the recreation, fitness, and nature needs of the community, manages and develops existing spaces and resources and creates a sustainable future for parks and recreation programs through a financially viable and environmentally conscious parks system. CCPR manages and maintains more than 500 park acres and numerous recreation facilities, including the Monon Community Center. For more information, visit http://www.carmelclayparks.com.