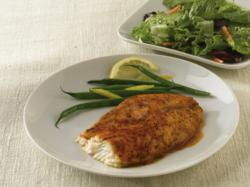 With no prep and no mess, Simply Bake makes it easy to enjoy seafood at home.
Gloucester, MA (PRWEB) June 18, 2013
Gorton's Seafood, America's number one brand of frozen seafood, is providing consumers with yet another way to enjoy the goodness of great seafood with new Simply Bake products, including Simply Bake Tilapia. Using a proprietary Bake Perfect Oven Bag that consumers put right into the oven, Simply Bake combines a unique, convenient cooking method with expertly seasoned, top-quality fillets for perfect seafood every time. Gorton's Simply Bake is available in high-quality Tilapia—available now nationwide—as well as Salmon and Haddock, available regionally.
Gorton's Simply Bake products are quickly becoming new favorites with consumers who are looking for a delicious, simple yet nutritious meal. Simply Bake's Bake Perfect Oven Bag locks in the moisture of the fish fillet and flavor of the restaurant-inspired sauce made from mouth-watering seasonings like garlic, parsley, bell peppers, and onion. With 20 grams of protein in each 120 calorie serving, Gorton's Simply Bake Tilapia is a lean protein option that health-conscious consumers can feel confident choosing, particularly with summer quickly approaching. Plus, with no prep and no mess, Simply Bake is an easy meal to prepare and serve with virtually no clean-up.
"Preparing delicious seafood at home can be challenging and time consuming. From selecting the right fish, to seasoning and cooking it, mealtime can feel like a chore, but Simply Bake changes that," says Zach Soolman, Director of Consumer Marketing at Gorton's. "I'm delighted that our team at Gorton's has developed great-tasting products that take the guess work out of restaurant-quality seafood. With no prep and no mess, Simply Bake makes it easy to enjoy seafood at home."
Gorton's Simply Bake Tilapia is widely available in the frozen seafood section of grocery stores nationwide. As is the case with all of Gorton's products, Simply Bake products contain natural Omega-3 fatty acids, are free of MSG and contain no trans fats, artificial colors and flavors.
For additional information about Gorton's Simply Bake products, visit gortons.com. For the latest news and product announcements from Gorton's Seafood, connect with Gorton's Seafood on Facebook, Twitter and Pinterest.
About Gorton's Seafood
Since 1849, Gorton's mission has been to help people everywhere enjoy the goodness of great seafood. Headquartered in Gloucester, Massachusetts, Gorton's is one of America's oldest continuously operating companies, and continues to be the innovative leader in the seafood industry. Gorton's full line of frozen seafood products spans from Breaded and Battered Fish Sticks and Fillets, to gluten free Grilled Fish, to Shrimp Scampi and innovative product lines such as Skillet Crisp and Simply Bake. Gorton's products are available nationwide in better independent and chain grocery stores.
Gorton's proudly stands behind the promise that consumers can, "Trust the Gorton's Fisherman," for the best-tasting, highest-quality seafood. The Gorton's Fisherman, in his yellow slicker and rain hat, embodies this commitment. For more information, please visit http://www.gortons.com or call 1-800-222-6846.