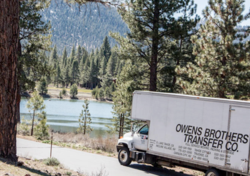 "We're already one of the top ranking Google searches for 'movers Lake Tahoe.'"
South Lake Tahoe, NV (PRWEB) June 01, 2013
Lake Tahoe moving and storage company, Owens Brothers Transfer, has announced the launch of its new website, http://mountainlakemover.com/. They are professional movers in South Lake Tahoe and the surrounding areas.
A privately owned and operated company, Owens Brothers Transfer specializes in top quality, dependable, and professional services. They have movers in Truckee, Tahoe City, Incline Village, South Lake Tahoe, Carson City and Reno, and all the surrounding area.
They are fully licensed and insured throughout California and Nevada. Owens Brothers Transfer has been serving the greater Tahoe area for more than four decades, and has been owned by Erika Larrieu for the past 15 years. The company had an existing website, but as Erika explained, "It was outdated and had no personal feel to the kind of business we are and what we do."
The moving and storage company hired San Luis Obispo web design and search engine optimization company, Access Publishing to redesign, build and maintain their website. "I had been looking for years for someone who could take me from start to finish as far as creating a new website," Erika said. "Just a one-stop shop to clean up my web presence because I don't personally understand how to create and optimize a website."
Access Publishing worked closely with Erika to expand upon and optimize the website's existing information. They also updated its style and navigation to create a more user-friendly experience for potential Owens Brothers customers. "It feels much more streamlined and personal now, " said Erika. "You don't get lost when you visit the site."
The website provides thorough descriptions of the company's moving and storage services and offers a convenient moving quote form that can be submitted for a free estimate. It also features local news and interest stories and customer reviews.
"I Love it!" exclaimed Erika. "We're already one of the top ranking Google searches for 'movers Lake Tahoe.' Next up will be movers Reno!"
For more information on Owens Brothers moving and storage services, please contact them here:
Owens Brothers Transfer
1031 Industrial Ave
South Lake Tahoe, CA 96150
(530) 541-1299
775) 831-0245