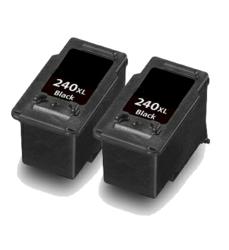 Any of these three sets can be used for any printer that is compatible with PG-240/CL-241 cartridges.
Montrose, CA (PRWEB) June 05, 2013
Many have wondered when the remanufactured version of the Canon PG-240/CL-241 ink cartridges will be available. They are finally here and available in three different size options available. Consumers can now go on doubleinks.com and purchase either the standard capacity, XL high yield, or the XXL extra high yield PG-240/CL-241 remanufactured ink cartridges. The XXL extra high yield is only available for the black. They can be on Doubleinks's website by clicking here.
The PG-240/CL-241 standard capacity is set at $34.99 for the double pack black and $21.99 for the single pack color. The PG-240XL/CL-241XL high yield double pack black goes for $39.99 and the single pack color goes for $25.99. The PG-240XXL extra high yield black is set at $28.99 for a single pack. The only difference in these three set of cartridges is the ink capacity allowed in the cartridge itself; the standard capacity being the least, followed by the XL, then the XXL. The higher the yield of the cartridge, the more ink can have. However, they are all still compatible with the same printers. Any of these three sets can be used for any printer that is compatible with PG-240/CL-241 cartridges. They are compatible with all of the following Canon printer models MG2120, MG2220, MG3120, MG3122, MG3222, MG4120, MG4220, MX372, MX392, MX432, MX439, MX452, MX512, and MX522.
Contrary to what many believe, the use of a remanufactured ink cartridge will not void your printer's warranty. It would be illegal for printer companies to do so because of the antitrust legislation passed by U.S. Congress in 1975, the Magnuson-Moss Warranty Act. The Magnuson-Moss Warranty Act is Federal Law enacted in 1975 establishing warranty requirements. The Act provides that: "Warranties, written or implied, cannot be conditioned on the consumer's use of any article or service identified by brand, trade, or corporate name." This prohibition against conditioning warranties on the use of authorized items. To get more information on the Magnuson-Moss Act, click here. With that said, buying remanufactured cartridges can not only cut costs, but they are safe as well.