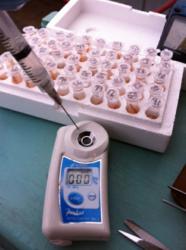 "You need something quick and easy – something you can use with a glove on your hand on a boat that is rocking."
Bellevue, WA (PRWEB) June 04, 2013
Lobsters as Food – From Rags to Riches
It may be hard to imagine, but until the late 19th century, lobsters were seen as inedible junk; mere nuisances getting in the way of the fish harvest. Lobsters that made it topside were cut into bait, ground into fertilizer, or treated as "poverty food," unfit for consumption by anyone but the very lowest fringes of society.
Times have radically changed in just a few generations. Lobsters are now considered a delicacy (and rather ironically an oft-requested last meal for death row prisoners), and the world fished 280,000 tons of them in 2010 alone. Demand is so high that lobsters need protections against overfishing, and fishermen have to ensure that they can get the most out of the lobsters they land and that they pick the best time to fish.
Blood Analysis Makes Lobster Sorting A Breeze
Lobsters periodically "molt," or shed their protective shells, and must expend a tremendous amount of minerals and proteins from their own tissues and blood to create a new one. A lobster that has recently molted is depleted, weak, and unlikely to survive being transported down the supply chain, and is diverted to immediate processing. If a lobster is landed before it has a chance to molt, it retains these extra nutrients and can endure repeated packing and shipping. These are the live lobsters in seafood restaurant tanks across the world.
During the molt, lobsters are also very soft and vulnerable to predators. Many species congregate to molt all at the same time, ensuring "safety in numbers." Thus, measuring the concentration of specimens' blood will deliver a simple window into when the lobster population at large is molting. This makes it indispensable for both the commercial and researching bodies in the lobster industry.
Readings are tracked carefully across populations and zones – environmental stressors, such as climate fluctuations, can severely impact timing and yield of the season. 2013, specifically, has been a rather cool year, so researchers are watching to see if this will delay the molt. Though predictions can be given based on weather alone, having empirical data about the lobsters' molt cycle in a given fishing zone can generate much better snapshots into the coming season.
Refractometers Give Simple Results Aboard a Vessel
The "lab" method for assessing lobster blood quality is intensive and requires an array of tests. Disposable cuvettes, reagents, and spectrophotometers are all involved to prepare and analyze light absorption to determine the presence of "hemocyanin" in the blood, which indicates a lobster's vitality. The process is far from instantaneous and not easily performed on an actual fishing vessel.
Refractometers offer a much quicker and simpler evaluation on whole blood drawn right from the lobster. They measure refraction of light through a given sample and translate that reading into specialized values, based on known relationships between the refraction and the desired scale, in this case "Brix," an indicator of dissolved solids. Dr. Jean Lavallée of Aquatic Science & Health Services (PEI, Canada) states that readings between the more intricate "lab method" and a refractometer are highly correlated. While the generally accepted boundary between a "weak/processing" and a "robust/traveling" lobster is 8% dissolved solids (or "Brix"), many players in the industry are using 10% to ensure an even higher survival rate for the travelers.
When Lavallée began testing lobster blood in 1995, the industry was using analog hand refractometers. These are portable and deliver instant results, but require you to peer through the instrument like a telescope and judge the light path against a finely-graduated scale. They must be cleaned very carefully between readings and most are not water-resistant. None of this lends itself to easy readings on a vessel either, especially if the user must go through dozens or hundreds of samples in rapid succession.
According to Patti King, GM of the Fishermen & Scientists Research Society, "You need something quick and easy – something you can use with a glove on your hand on a boat that is rocking."
Fortunately, ATAGO's PAL-1 Digital Pocket Refractometer addresses all these concerns and has become a new benchmark for researchers and commercial fishers alike. The unit has been designed to provide digital readouts compensated for a wide range of temperatures, which removes user subjectivity and allows for readings at arms' length.  It is built IP65 water-resistant and even floats, though on-vessel testers may want to use the lanyard loop just in case.
ABOUT ATAGO:
Since 1940, ATAGO has been the worldwide trusted brand for refractometers of all shapes, sizes, and applications. The vast product line includes the "RX" laboratory models, pocket-size digital "PAL" units, and "CM" series of compact in-line devices. ATAGO instruments are currently maintaining quality across myriad industries in over 150 countries.