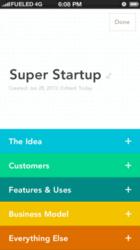 NEW YORK, NY (PRWEB) June 20, 2013
Elevatr, a new iOS app that makes entrepreneurship feel accessible to anyone with a business idea, has added its first social feature. Developed in partnership with Fueled, an iPhone app design agency in London (http://fueled.com), Elevatr launched 6 weeks ago and already has more than 70,000 users.
The beautifully designed product guides raw user idea content - notes, pictures, media - into categories such as problem, target market, and monetization. The result is a concise business plan rather than an expansive free-form note. Ideas can be shared in order to garner feedback from teammates, customers, and experts.
"Our success so far is a testament to how entrepreneurial we've all become" says David Spiro, Founder of Elevatr. "We all have ideas; Elevatr was built to help us all turn our ideas into businesses."
Users can easily keep track of as many projects as they can come up with and each can be securely saved, stored, and backed up to the cloud. Elevatr saves the date they first enter an idea and tracks how long it has been since their last edit. People have been using it to plan their current startup and backburner ideas.
"We worked closely with David and turned his brainchild into a laser-focused, beautiful, highly functional final product" says Ryan Matzner, Director at Fueled. "We are very excited about Elevatr."
Spiro is currently working on features that will take Elevatr to the next level for consumers, including the capability to invite teammates into the app to collaborate on building ideas.
"The feedback thus far has been incredible" Spiro said. "We will continually improve in order to reach our full potential."
Elevatr is available on iPhone with web, Android, and iPad and web versions in the works.