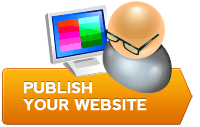 FastWebHost now offers a new and easy way to create websites. Users can create a website in 3 simple steps with our Basekit Sitebuilder, without any technical or website design knowledge.
California, USA (PRWEB) June 18, 2013
FastWebHost now offers Basekit Sitebuilder tool to create and launch websites in three easy steps, all from within a user's browser.
Creating and publishing a website using FastWebHost Sitebuilder is as easy as 1-2-3. Using web browser users can 1. choose a website template, 2. add features, and 3. customize their online presence. There are no files to download or upload – the entire process of website creation is done within the viewer's browser. Every website comes with feature packed, reliable and affordable cPanel web hosting.
FastWebHost Sitebuilder website creation is a simple 3 step process:
1. Users can choose a template to start creating their website. A template selector allows user to choose from over 200 + premium templates. All templates are fully customizable making it easy to have a unique look and design. All FastWebHost accounts come with free 2 page website.
2. Add features and functionality to website by dragging and dropping text, images and videos onto a chosen template. Google maps, eCommerce features and social media widgets are offered. Editing the website is easy and can be done any time with just a few clicks, even after website has gone live.
3. Customization – every website can be customized using flexible design features to fit the needs of any user or business. Templates can be personalized by changing color schemes, font styles, creative layouts and more. No coding is needed, offering creativity without any hassles.
FastWebHost Sitebuilder allows users to publish their website with one click and share it with the world! All Sitebuilder websites include cPanel, so all hosting needs are taken care of. FastWebHost offers everything an individual or business needs to get online with their new website. To take advantage of this new offer, users can sign up at the company's website at http://www.fastwebhost.com/
About FastWebHost:
FastWebHost, is an affordable web hosting and domain registration service provider based in California, USA. Founded in 2002, the company is dedicated to providing reliable and affordable website solutions to individuals and businesses. FastWebHost currently hosts over 200,000 domains, offers robust 24/7 support with highly experienced and well trained technical staff; US Datacenters and an acclaimed Global Network infrastructure.