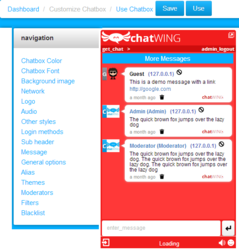 Cambridge, MA (PRWEB) June 01, 2013
Recently, Chatwing.com launches a chat app tool that can be used to boost any Facebook and Twitter marketing campaign. The Chatwing chat software utilizes a user's need to share information regarding a specific niche. Also, the tool is meant to improve the online visibility rate of any website or blog. Now, website owners can even reach out to large groups of people with relative ease.
Facebook and Twitter marketers can rely on the Chatwing chat tool because of the exposure that it can offer. At any moment, the chatbox can accommodate thousands of web users and visitors. Apart from that, social media login methods are allowed so everyone can send invitations to each other. Based on the observations of Chatwing's developers, the exposure rate offered by Chatwing tool is more than 60%.
Registered Chatwing users can even tweak the chatroom according to their preferences. Color schemes and background images are abundant, along with different font styles. "We intend to keep it like that, and we might even add more options along the way. Many web users were delighted with this customization gig. Some of them can't even believe that we're offering Chatwing for free," Says Mike Diamond, a developer and researcher from Chatwing.
The Chatwing chatbox is designed to improve the connectivity rate of any blog or website. In turn, it can also boost marketing campaigns easily. To know more about the chat tool, users are advised to visit Chatwing's official Facebook page.
About Chatwing.com
Chatwing.com specializes in the new field of website chat. Over years, the Chatwing team has introduced live chat widget for hundreds and thousands of blogs. The Chatwing application bridges people from many parts of the world, creating global synergy through the Internet. The shout box can be installed in just seconds, and it can be used for varying purposes such as leisure and Internet marketing. It also allows a user to customize the size, color, and name of the widget.