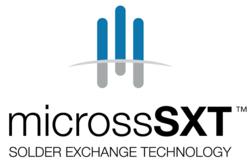 Our automated robotic systems are truly unique and enable us to deliver product of the highest standard to our esteemed customer base.
Hatfield, PA (PRWEB) June 03, 2013
Micross Components, a global provider of specialty electronic components with a 30-plus year history in providing authentic, high-reliability products, announces further investment in their Solder Exchange Technology, Micross SXT(tm).
Micross has been the industry leader in developing specialized Solder Exchange processes to the GEIA-006 standard, the specification for automated tinning of leaded parts. The company has invested in bespoke automated Solder Exchange equipment dedicated to providing high-quality product solutions for a wide range of electronic components such as resistors, high pin-count QFPs, BGAs and connectors. The proprietary robot is capable beyond the requirements of the GEIA-006 standard, to meet customer requirements that are often more demanding.
Jamie Knight, Managing Director for Micross Components Products and Services UK, notes, "Micross holds a distinct position in the marketplace. We've strongly invested in our exclusive automated systems to meet the high-quality demands of our customers and their end applications. Our robots are fully software guided through built control parameters uniquely designed to meet the demanding GEIA-006 standard.
"For over five years now, Micross has been leading the charge in Solder Exchange, giving customers assurance of full metallurgy compliance for conversion to leaded, lead-free and more recently HMP for Hi-Reliability and Hi-Temperature applications."
UK Engineering Director Peter Tollafield added, "Our ability to innovate and invest has always given Micross a competitive advantage in the marketplace. Our automated robotic systems are truly unique and enable us to deliver product of the highest standard to our esteemed customer base."
As with all of Micross' products and services, Micross SXT(tm) is available in both United Kingdom and United States facilities to meet customer geographic requirements or preferences.
Micross maintains AS9100 Rev. C registration, MIL-PRF-38535 QML Certification for full Class Q and assembly of Class V, MIL-PRF-38534 for Full Class H, and MIL-STD-883 Commercial Laboratory Suitability. Additionally, Micross meets JESD-31 and the rigorous requirements of their authorized suppliers, space, military, medical and other high-reliability customers.
About Micross Components
Micross Components is a leading global provider of distributed and specialty electronic components for military, space, medical, and demanding industrial applications. Operating as a single source for high-reliability and state-of-the-art electronics, Micross' solutions range from bare die and wafer processing to advanced and custom packaging to component modifications and related interconnect offerings. With a 30+ year heritage, Micross possesses the design, manufacturing and logistics expertise needed to support an application from start to finish.