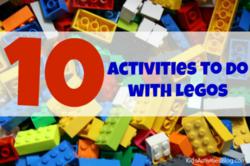 Let the kids build word towers with LEGOs.
Dallas, Texas (PRWEB) June 01, 2013
Moms love when play time mingles with learning. A gallery of play and learn with LEGOs ideas have been published on Kids Activities Blog. Build LEGOs, have fun, and sneak in learning, too. These ideas incorporate just that.
Among the educational LEGO activities are color sorting, LEGO painting and stamping ideas with LEGOs, LEGO letter tracing, and using LEGOs to measure all sorts of things. Use alphabet stickers or a permanent marker to label the bricks with letters. Let the kids build word towers or alphabet towers.
Other ideas include writing numbers on a piece of paper and letting the kids match the numbers with the correct number of bricks. Creating all kinds of patterns and designs and letting the kids replicate them will help them to follow directions and teach them spacial awareness.
Creating art with LEGO, making DIY instruction booklets, playing classic board games with LEGOs, building mazes and pyramids, building a LEGO catapult, and having a brick building contest are just only some of the amazing ideas published on Kids Activities Blog.
For detailed instructions and to get lots of additional fun ideas, check out Kids Activities Blog this week. Come get inspired to let the kids play and learn with LEGOs.
About Kids Activities Blog
Kids Activities Blog is a website created by two moms (who collectively have 9 children), Rachel Miller and Holly Homer from June Cleaver Nirvana. It is their daily goal to inspire parents and teachers to play with kids. This interactive website publishes simple things to do with kids twice a day. Kids Activities Blog is a great tool for moms and teachers to find kid-friendly activities that create memories and sneak learning into the fun.