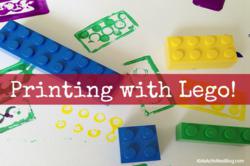 LEGO art is cool and makes great wrapping paper and cards for birthday parties.
Dallas, TX (PRWEB) June 03, 2013
LEGO art and a DIY LEGO book are only a few of the many LEGO projects tested by kids and recommended by Moms on Kids Activities Blog.
LEGO is an all-time kids' favorite toy. Using LEGOs and paint to make cool art pieces will keep kids busy for hours. Materials needed for the fun LEGO art project includes a variety of LEGO bricks in different shapes and sizes, some paper plates, paint, and paper. Let the kid's imagination roar by letting them dip away in the paint and on the paper. Remind them to only put a touch of paint on the brick so the definition of the brick shows up the best.
This activity allows the kids to learn about different shapes and colors. The finished art work makes great birthday cards and wrapping paper for a LEGO themed birthday party.
Making a DIY LEGO puzzle book is a great way to get older and younger kids building LEGOs together. Let the older kids help in making the booklet. Build a few simple LEGO creations using different size, color, and shape of bricks. Take a close up picture of the LEGO creation. Print out each creation life size onto card stock. Then let the younger child grab a bucket of LEGOs and let him or her recreate the picture.
For detailed instructions and to get additional fun LEGO ideas, check out Kids Activities Blog this week. Come get inspired to let the kids have a blast playing with LEGOs.
About Kids Activities Blog
Kids Activities Blog is a website created by two moms (who collectively have 9 children), Rachel Miller and Holly Homer from June Cleaver Nirvana. It is their daily goal to inspire parents and teachers to play with kids. This interactive website publishes simple things to do with kids twice a day. Kids Activities Blog is a great tool for moms and teachers to find kid-friendly activities that create memories and sneak learning into the fun.