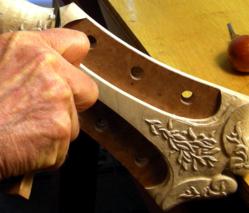 Benedetto Guitars has become legendary in highlighting world-class jazz guitar in concerts – especially at Miner Family Winery in Napa Valley – and festivals worldwide.
Savannah, Georgia (PRWEB) June 30, 2013
Napa and Sonoma present perfect venues to spotlight the 45th Anniversary Celebration for venerable Benedetto Guitars, Inc. The Savannah, Georgia based jazz guitar maker will present an August 10th concert, 7 PM, at Miner Family Winery, Oakville, CA with the release of its eighth vintage of Miner's Benedetto Signature Cabernet Sauvignon (vintage 2010). The concert, wine release, and a corresponding dinner are open to the public. The celebration continues with Benedetto's participation in the 2013 Healdsburg Guitar Festival in Santa Rosa, CA on August 9-11.
Benedetto Player/jazz guitar virtuoso Howard Alden will accompany Benedetto Guitars President/CEO Howard Paul on stage at both the Healdsburg Festival and Miner Winery Concert. Co-hosted by vintner Dave Miner and Bob Benedetto, special guests at the winery event will include vibraphonist Christian Tamburr, drummer Quentin Baxter and bassist Jeff Denson.
This year's events will include the unveiling of the Benedetto 45th Anniversary Cremona, a unique archtop jazz guitar featuring relief carvings in the headstock and heel, and detailed inlay on the fretboard.
Since 1995, the Healdsburg Guitar Festival, located in picturesque Sonoma County, California, has provided an international venue for guitar enthusiasts to try-out guitars in the presence of the luthiers, hosted workshops taught by professional performers, and demonstrated custom guitars in a concert setting.
Located on the exquisite Silverado Trail in Napa Valley's Oakville, CA, Miner Family Vineyards transforms its loading dock into an amphitheater for an evening of fine wine, hors d'oeuvres and jazz. The concerts have featured Bucky Pizzarelli, Howard Alden, Benedetto CEO Howard Paul as well as Andreas Oberg, Jimmy Bruno and Frank Vignola and included music from Johnny Mercer, Duke Ellington, George Gershwin, Jerome Kern, and Django Rheinhart. Vintner Dave Miner commissioned his first Benedetto guitar with a finish stained from Miner's Cabernet Sauvignon. Bob Benedetto loved the "stain" so much, a partnership was born where each year Benedetto creates a new wine-stained archtop 'Vinodetto' guitar for Dave who releases a new vintage of Miner 'Benedetto Signature' Cabernet Sauvignon. Each vintage — starting with 2002 — is released at an annual Benedetto Players concert on the winery property. The Limited production of Benedetto wine is available from http://www.minerwines.com (as well as many other excellent Miner Wines).
Founded in 1968 by American luthier Robert Benedetto, Benedetto Guitars is celebrating 2013 as their 45th Anniversary of making archtop jazz guitars. The internationally renowned company builds some of the world's most collectable jazz guitars that appear in countless recordings, film soundtracks, books, magazines and museums (including the permanent collection of The Smithsonian Institution's National Museum of American History), and featured on concert stages and jazz festivals around the world. Howard Paul is the storied guitar company's President/CEO, which has been located in Savannah, Georgia since 2006.