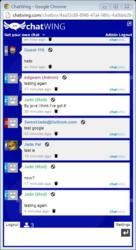 Portland, OR (PRWEB) June 04, 2013
The practice of student blogging is now resurfacing with new techniques and trends. Based on various feedbacks from professionals, student blogs are taking a new turn because students tend to voice out their concerns often. Students are also willing to comment on important global and economical issues. Chatwing.com extends its reach to the student blogging community by introducing the new version of its chat app tool. The application can be installed to student blogs to help generate online visibility.
The chat software offered by Chatwing.com initiates lengthy discussions between visitors and website owners. Discussions happen in real-time, allowing the free-flow of information every single day. Students can benefit from this, especially if they are researching about specific topics. The student blogger can also customize the appearance of the chat app as often as he wanted to. There are numerous color styles and font families to choose from, along with neatly-designed background images.
To further help students gain the information they need, Chatwing developers are even starting discussions in many chat boxes. These discussions are helpful in finishing projects and can save the time of students. Also, the chat network—newest feature of the Chatwing tool—allows the linking of user chatrooms so that more topic-centric information can be gathered.
By improving a student blogger's online exposure, greater knowledge will flow and information clutter will be prevented. As always, Chatwing.com will contribute to the betterment of online chat experiences, as well as the social media exposure of all users. More updates will be posted in Chatwing's Facebook page and Twitter portal.
About Chatwing.com
Chatwing.com specializes in the new field of website chat. Over years, the Chatwing team has introduced live chat widget for hundreds and thousands of blogs. The Chatwing application bridges people from many parts of the world, creating global synergy through the Internet. The shout box can be installed in just seconds, and it can be used for varying purposes such as leisure and Internet marketing. It also allows a user to customize the size, color, and name of the widget.