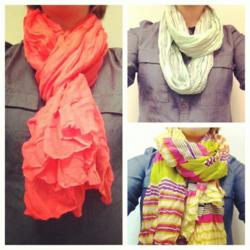 Scarves are an easy way to add a pop of color or texture to an outfit.
Maryland Heights, MO (PRWEB) June 06, 2013
Looking stylish is not always an easy task when the temperatures rise. Layering becomes intolerable and accessorizing an outfit can take a backseat to staying cool. BuyNowOrNever.com carries many accessories from scarves to jewelry which can be used to accessorize a summer outfit.
Scarves are an easy way to add a pop of color or texture to an outfit. While the term 'scarves' may be synonymous with cooler weather, lightweight fabrics can have the same completing effect on an outfit without bringing on the heat. Infinity summer scarves can be left long and accented with a belt around the waist, or doubled to create a bunched effect. Traditional scarves can be left loose or looped around your neck.
If you don't fancy wearing anything around your neck in a hot climate, statement earrings are also a great way to bring style to your look. Studs, hoops and chandeliers are quick to put on and easy to grab on your way out the door. Pull your hair back to cool off and let the gems shine.
Wristlets are lighter and easier to carry than larger handbags. These carry-alls provide just enough room for the essentials while freeing up your shoulders. Summer day trips and date nights are carefree as you are able to simply slip the small bag around your wrist and go.
Dressing stylishly in the upper 90's may seem impossible, but is really doable. Lightweight fabrics and simple accessories can transform an otherwise lifeless outfit into a stylishly chic ensemble. Choosing the right pieces to fit your style will give you confidence to leave the house looking and feeling cool.