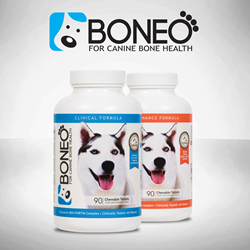 I am so excited to see a novel product like BONEO Canine® that combines and actively delivers the modulators and nutrients needed for both healthy joints AND healthy bones." - Dr. Frank Borostyankoi, DVM, Board Certified Veterinary Surgeon
Pomona, California (PRWEB) June 07, 2013
Bio-Rep, Inc., a California based company specializing in the distribution of clinically-tested and patented supplements, recently announced the launch of BONEO Canine®, a revolutionary new product that promotes healthy bones and joints in dogs.
In contrast to traditional glucosamine and chondroitin products, which provide limited benefits focused primarily on joints, BONEO Canine® delivers broad-spectrum support to BOTH joints and bones. The multi-functional and potent formula is powered by Neo-PORTIN® Complex, an exclusive blend of ribonuclease-enriched lactoferrin (R-ELF), coenzyme-Q10 and β-glucan. Published clinical data has shown that R-ELF, when combined with other bioactives in specific ratios, helps enhance bone turnover activity, promotes joint comfort, and increases absorption of essential bone vitamins and minerals.
"Research has shown that the active ingredient in Neo-PORTIN® Complex regulates bone and joint tissue metabolism and functions as a transporter of nutrients to the synovium," said Dr. A.S. Naidu, PhD Microbiology/Immunology, Chief Scientific Advisor to Bio-Rep. "The Complex binds to specific receptors in the intestine that enable active transport of bone-specific nutrients into systemic circulation." The technology behind BONEO Canine® is so innovative that it is currently protected by six US patents.
In addition to Neo-PORTIN® Complex, each bottle of BONEO Canine® is also fortified with the premium quality bone co-factors, bone minerals and antioxidant synergists for comprehensive bone and joint support. Bone co-factors function as "nutrient activators" that assist in biochemical transformations. For example, Vitamin D3 is required for the uptake of calcium into bones. Bone minerals, such as calcium, serve as "building blocks" that are essential for maintaining strong bones and joints; they help define the skeleton's rigidity and ability to provide structural support to the body. Finally, antioxidant synergists like quercetin and selenium serve as "coolants" and are well-documented for their role in controlling damage caused by free radicals generated during physical activity.
Dr. Frank Borostyankoi, DVM, DACVS (Diplomate, American College of Veterinary Surgeons), a board certified veterinary surgeon specializing in orthopedics, arthroscopy and post-surgical physical rehabilitation, is a Veterinary Advisor to Bio-Rep. Recently, he shared his insights into ongoing developments in animal healthcare: "Dogs are living longer than ever before thanks to their adaptation as family members in our households. With this positive trend, veterinarians like me have had to increasingly operate on dogs that have aged over their historical life expectancy. Advances in veterinary medicine and the owner's insistence to provide the best for their pets have given us new challenges in veterinary orthopedic medicine and surgery."
He continued, "In older pets, their bony structure may gradually turn brittle and their bone matter can become exhausted. Also, we have had to perform large amount of elective orthopedic surgeries due to the advancements in ligament repair techniques where bone is intentionally cut to redesign the physics of joint function. In addition, there is the constant flow of traumatized patients who come in with "hit by car" injuries and broken bones which requires emergency care."
Dr. Borostyankoi went on to discuss his thoughts about the current state of the canine supplement market and his views on BONEO® Canine: "Over the past 15 years, we have observed the animal health market being flooded with the different joint supplements. There was nothing offered by this industry for the pet owner or the veterinarian that effectively promoted bone health. Also, it became evident that giving excess amounts of calcium and phosphorus alone inadequately addressed canine bone health needs. That's why I am so excited to see a novel product like BONEO Canine® that combines and actively delivers the modulators and nutrients needed for both healthy joints AND healthy bones."
Sreus Naidu, President of Bio-Rep, is proud to share the story that gave rise to development of the product. "BONEO Canine® was inspired by Neo, a Siberian husky my family rescued in 2010," he recollected. "When we found Neo, he had been hit by a car and suffered from a fractured leg that required multiple reconstructive surgeries. During Neo's recovery process, we learned that there were many products for canine joint health but nothing specifically targeting bone health, so we created a lab-version of Neo-PORTIN® Complex for him. A year and several case studies later, we perfected the formula and launched BONEO Canine®. While the base complex remained the same as what we had given our dog, we tweaked the formula to address palatability, delivery form, shelf life and dosage."
The BONEO Canine® line is manufactured entirely in the United States to the highest quality standards. It is manufactured at FDA-inspected facilities that are strictly compliant with current Good Manufacturing Practices (cGMP's). Bio-Rep sources the ingredients from premium human-grade suppliers and has them tested at independent third-party laboratories for purity. BONEO Canine® is sold in two strengths: Maintenance Formula (available online for $39.99 for 90 chewable tablets) and Clinical Formula (available exclusively through veterinarians). The company offers free shipping for all orders over $75.
For more information, please visit the BONEO Canine® website. You can also join the BONEO Canine® online community on Twitter @boneocanine and on the Boneo Canine Facebook page.