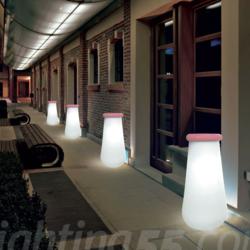 Boteri Pot by Manamana from Italia
Tarpon Springs, FL (PRWEB) June 25, 2013
Lighting55, the leading European light supplier on the web, has recently introduced their latest luxury light series, Manamana from the brand Linea. Modern light fittings from Manamana are ideal for the living room, master bedroom, lounges, banquets, sprawling halls, kitchen, bathrooms, and even the outdoors. With a variety of Manamana lighting fixtures, the brand has become extremely popular with homemakers, interior designers, architectures and engineers. Anyone with an eye for sophisticated lighting solutions can get these lights from Lighting55 and install them easily in their homes or offices. Each lamp has been conceptualized and created by renowned designers. These lights are supported by the flawless customer support of Lighting55 which is one of the most reliable in the industry. These lights are popular due to their energy-efficiency, latest LED technology, and durability. These lights are light in weight and easy to clean.
Indoor lights like ceiling and suspension lamps from Manamana are made of polyethylene. The Vulcanino e Vulcanone can be used both as a ceiling light and as a suspension lamp. The natural light diffuser is extremely energy efficient and can be used with lighting accessories to serve as an outdoor light fixture as well. These lamps not only bring an authentic Italian style in fashionable homes but also reduce monthly energy bills.
Another Manamana lighting piece, the Oh! Light spheres add a certain degree of attractiveness in any space. A seven sphere pendant light saves energy and imparts an Italian brilliance to the room. Each of the light orbs measures 38 centimeters in diameter. The Oh! Collection consists of elegant and multipurpose light pieces which can be mounted on walls, ceilings, or floor. Outdoor lamps can be integrated with outer light casings, pickets, or anti-theft kits.
Modern light fittings from Manamana also include pendant lamps. The Eye line from Manamana is ideal for both showrooms and home. It has an RGB light feature and carries a remote control too. It emits soft, bright, and clear lights in any space. Manamana lights revisit Tuscany, Mediterranean, and old world lights with élan.
Customer feedback has been very encouraging for this new Manamana series. Katy White from Houston, Texas, has only praises for the lamps and their performance. "Incredible doesn't even begin to describe how the lamps look and function. All my suspension lights are working great around the living room and kitchen." Jay Smith, a freelancer from Arizona is amazed at the speed of delivery and the installation guide he received on-call. "I want to thank Lighting55 for the lightning-fast delivery and the superb installation support. Now my clients have decided to get only your lamps for their home and showroom. Thanks again."
Lighting55 Australia is the leading supplier of limited edition European lights in the US. The company has a strong customer presence worldwide and sells modern lighting solutions through their online stores. They also offer free international shipping and on-call light installation consultation. The latest Livechat feature on their web shop has made it even more helpful to enquire about their products and services.