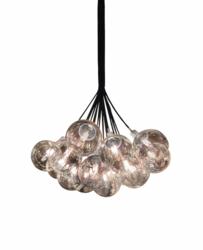 Orb 19 light cluster by Sonneman
Tarpon Springs, FL (PRWEB) June 04, 2013
Interior Deluxe, the premium store of luxury European lighting, recently unveiled their latest brand, Sonneman. This line of stunning transitional lighting fixtures have been conceptualized and designed by Robert Sonneman, who transformed designer lights into living, breathing architectural accessories. Each light, whether chandelier, wall scone, recessed outdoor lamp, suspension pendant lamp, floor light, or table lamp, has been aesthetically designed to meet modern home lighting requirements. The latest range of Sonneman lighting features lamps that are energy efficient and durable. They are easy to install and blend seamlessly with contemporary décor ideas. The lighting solutions are available in different budget ranges and are designed to suit every customer's unique personality and style sensibilities. However, the best quality of these lights have to be the excellent customer service guaranteed by Interior Deluxe which takes online light fixture shopping to a whole new level.
The assortment of lights comprising the Sonneman range is unending. Various materials like glass, linen, and metals are used to manufacture these lights. For instance, the Dichroic 4-Light Surface Mount uses 4 incandescent bulbs and has been given a shiny nickel and black brass finish. A Dichroic lamp shade of glass creates an optical filter that reflects certain light rays while transmitting the others. This produces a beautiful palette of colors.
The Berlin Torchiere is another contemporary lighting wonder from Sonneman. This floor lamp recalls German architecture pertaining to mid twentieth century. Upright rectangular glass columns supporting the horizontal shade make this light fixture both solid and flowing. It uses two fluorescent lights and boasts of impressive geometric designs.
The Votivo 3 Light Bath Bar is a unique blend of vintage candle lights and modern clear glass cylinders. A set of three glass rolls in white carry three bulbs to give a warm and delicate glow to a modern bathroom. A rectangular light arm supports the three lights on a chrome finished ring.
Sonneman lighting has received warm reviews from users. Amy Neumann, a store owner from Florida, has praised the lights. She said, "I bought two Sonneman floor lamps from Interior Deluxe recently. I must say, they're beyond anything I've seen. I'm thrilled by their performance." Neville Marsh Junior, an engineer from New Jersey, also expressed similar views, "Every time I've shopped for lights from them, I've got the best in class and price. I recommend Interior Deluxe to everyone."
Interior Deluxe is a famous luxury European lighting brand that delivers worldwide and especially in the US. They specialize in classy modern lighting and store fashionable lights for all types of décor and architecture. Bedrooms, bath and kitchen, living rooms, lobby or patio, offices, restaurants, or showrooms – they have lights that redefine spaces. Interactive lighting tools and estores support makes them a formidable force in the home lighting industry. They offer on-call assistance for light installation and flaunt the AAA rank with the Best Business Bureau.