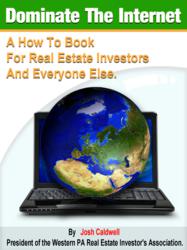 "nobody makes learning how to invest easier than Reggie Brooks"
Pittsburgh, PA (PRWEB) June 17, 2013
Reggie Brooks will be the featured speaker at the Western Pennsylvania Real Estate Investor's Association's meeting on June 18, 2013. This meeting is open to the public and will be held at the Doubletree Hotel in Greentree, PA. The doors will open at 6:30 P.M. with the main meeting starting at 7:00 P.M. Guests are encouraged to arrive early as seating is limited to the first 150 people who arrive. No advance seat reservations are available.
Reggie is coming to town as part of the continuing Financial Freedom series that has become a hallmark of the Western PA Real Estate Investor's Association. The Pittsburgh-based investing club has been a driver of real estate investment education for over two decades. The seminar series brings the best and most widely known speakers to town on a quarterly basis.
For readers who are new to real estate or for the seasoned investor, this is a rare opportunity to see one of the most successful real estate trainers alive today in person. The following is a small snippet from the official biography of Reggie Brooks.
"Reggie Brooks, the #1 abandoned property specialist in North America. Reggie is also an international speaker, author and educator, dedicated to inspiring others to achieve personal success through real estate investment. Having risen above a life of poverty, he has achieved what many people consider to be impossible. He went from making $36,000 per year at the local telephone company, to making over $40,000 per month in his real estate business.
Starting out with very little money, Reggie began his investment career in 1986. After taking a few real estate investment courses, he began investing in rental properties in Los Angeles. He quickly replaced his telephone company income of $3,000 per month with over $4,200 per month from a few well-placed investments, becoming financially independent within his first year of investing.
Today, Reggie delivers his personal philosophies for success at major business venues and expositions throughout the United States. Reggie has also exploded as thee expert on "Abandoned Property Specialist" in the world.
Reggie attributes his success to faith and family, and to the invaluable mentors he has met along the way of all his many accomplishments, Reggie is most proud of his family--his wife Ersoleen, and children Keith and Arlett."
The goal of Reggie's presentation is to enlighten the audience to one of the techniques that he has used to transform his life from poverty to a life of wealth and financial freedom. Reggie has been teaching ordinary people how to make money with abandoned property for more than a decade. In every major city across America, there are properties that men like Reggie have made large chunks of money with.
Anyone who is trapped in a dead end job or living just over broke, this is your chance to see how a man from a poverty stricken neighborhood in Los Angeles made a fortune in real estate.
Reggie Brooks is a California-based investor and has not been to Pennsylvania is over a decade, this one day only event is likely the last time that he will be in Pittsburgh. For direction please call Western PA Real Estate Investor's Association President Josh Caldwell, 412 592 2146.