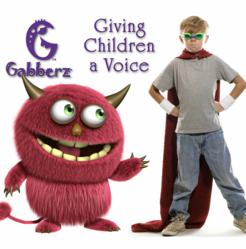 Public speaking coaching program helps build confidence and leadership skills in children from all socioeconomic levels, enabling a new generation of doers... of builders... of leaders who will mold a bright, positive, and productive future.
Leesburg, VA (PRWEB) June 02, 2013
The fear and terror of speaking (whether to 1 person or to 100) is a real and debilitating phobia that strikes many people, stunts their careers, and results in awkward social situations that limit their prospects and feed their fears even further. But, this is a learned phobia and it doesn't need to be that way for anyone.
Gabberz,® Inc. fights this fear through a fun and self-paced coaching program designed specifically for kids 8 to 18 years old.
David Nemzoff, President and Founder of Gabberz, Inc. explained, "Imagine if our children were to learn the skill and joy of public speaking at an early age, before the fear could possibly develop... Imagine where they could go in life. Imagine what they could accomplish. This is what I wanted for my kids."
Now imagine that this company is trying to share their coaching program with disadvantaged kids from challenging backgrounds to help them pull themselves up and compete in today's world. Imagination is not required as that is exactly what they are doing.
Gabberz, Inc. is running a campaign at http://www.GoToGab.com to seek help in their initial efforts to give their coaching program away for free to disadvantaged kids and families who cannot afford to purchase a self-development program like this. When they begin selling the program commercially, they will set aside a portion of the proceeds to accomplish these goals, but for now, they need help in reaching these kids and providing coaching to them at no cost.
As only one example, they have very recently begun working with Windswept Academy out in Eagle Butte, South Dakota to refocus a version of the Gabberz coaching program to a classroom environment specifically for their students from the Lakota Tribe on the Cheyenne River Sioux Reservation. Eagle Butte is one of the poorest counties in the nation and opportunities for these children are nearly non-existent. The heart-breaking stories of what these kids endure on a daily basis is beyond what most of us could even imagine. Gabberz has offered to develop, produce, and deliver a coaching program specifically for the kids in their classroom at zero cost to them.
There are many different types of groups and individuals throughout the United States who would benefit from this type of coaching and Gabberz wants to reach out to as many of them as possible.
However, this campaign to raise support ends on June 22 and Gabberz needs all the help they can get. They are asking everyone to visit the site at http://www.GoToGab.com, view the video, read about what they're doing, and help accomplish their worthy goal.
--------
Gabberz, Inc. is a small Veteran-Owned business located in Leesburg, VA. The company is developing a full suite of communication coaching programs for kids. The President and Founder, David Nemzoff, has been coaching public speaking, communications, and corporate presentations for over 20 years. As the father in a homeschool family, the genesis for "Public Speaking for Kids" was his desire to teach his kids what he knew and to give them every advantage possible in today's competitive world. Click here to learn more about Gabberz, Inc.
Gabberz®, Inc. and "Public Speaking for Kids, Confidence for Life"™ are trademarks of Gabberz, Inc. All rights reserved.