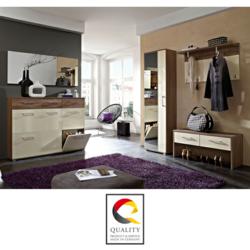 (PRWEB UK) 6 June 2013
FurnitureInFashion, one of the largest suppliers of hallway furniture in the UK, is pleased to announce the launch of the Revue dark oak and gloss cream hallway furniture range for the modern contemporary home. FurnitureInFashion is known for its stunning, extensive collection of hallway furniture. The hallway furniture offered by the company is not only hard wearing but also adds more functionality by providing outstanding organizational solutions. The Revue hallway furniture range includes a shoe cabinet, wardrobe, coat stand, wall rack and shoe bench. The finest quality materials have been used in the construction of all the items in this range.
The Revue range is very stylish and is one of the best hallway furniture ranges offered by FurnitureInFashion. It has a harmonious choice of colors and offers detailed solutions to practical needs. The Revue range is a modern hallway furniture solution in dark oak and high gloss cream. Every product in this range has been given a melamine finish, which makes the products very hard wearing and scratch resistant. The touchwood finish given to the products, emulates the feel of oak. The stunning shoe cabinet in gloss cream and a dark oak finish has four pull down shoe storage compartments and three pull out drawers for storing other accessories all behind a single door. This shoe cabinet can easily hold approximately 20 pairs of shoes. The top of this cabinet is large enough to display decorative ornaments.
The Revue range also includes a coat stand. The coat stand has two shelves for storage, four metal hooks for hanging coats, umbrellas, scarves and hats and a sturdy clothes rail to hang heavy coats. This stand is a very functional piece, as it offers such generous storage. The wardrobe has two shelves and a clothes rail in addition to a full length mirror. The wardrobe is an ideal storage solution and can be used in bedrooms as well. To provide more storage space, the Revue hallway furniture range also offers a wall rack. This rack has five hooks and two rails as well as a shelf. The wall rack is suitable for hanging umbrellas, hats, coats, scarves and so on. This range also offers a shoe bench. The shoe bench is in a dark oak finish with two white drawers with metal handles to provide extra storage space. The bench is large enough to sit on while putting on shoes. A mirror 145 cm wide, 3 cm deep and 58 cm high is also included in this range.
The Managing Director and CEO of FurnitureInFashion said, "The Revue hallway furniture range is a perfect solution for many hallway needs. Italian design concepts have been fused with reliable German manufacturing processes to give a superb product. This hallway range is available at an affordable price and can be ordered online. FurnitureInFashion offers excellent customer service and a free-of-cost home delivery service within the UK."
To have a look at quality affordable hallway furniture collections online and to place a pre-stock order, please visit the company website today at http://www.furnitureinfashion.net. The range of hallway furniture collections on the website is huge, delivery is fast, savings are massive and quality is guaranteed.
About FurnitureInFashion
FurnitureInFashion is a UK based online retail business. It supplies furniture items from its German based warehouse and has a showroom in Bolton, UK. The company provides everything from umbrella stands, wall art and room dividers to bedroom suites, bar stools and computer tables. FurnitureInFashion offers free delivery within UK and is rightly proud of its excellent customer service. For further information and details about sales, please visit http://www.furnitureinfashion.net