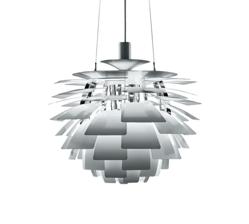 PH Artichoke pendant
Tarpon Springs, Florida (PRWEB) June 05, 2013
Lighting55 Australia, the leading store of exclusive European lights in the US, has recently unveiled their latest range of lights from the upscale Danish light label, Louis Poulsen. This range features contemporary light fixtures, and customers can buy aesthetically designed chandeliers, recessed lights, floor lamps, outdoor lights, pendants, and wall scones. These Louis Poulsen lighting fixtures are available in metal, glass, and crystal, and come in wide ranging colors, shapes, sizes, and finishes. There are lights for the bedroom, bath and kitchen, dining room, foyer, porch and driveway, and also for retail fronts, restaurants, and offices. These lights easily become a part of the architecture and décor. The perfection of these lights is carried forward in the customer services provided by Lighting55, such as free worldwide shipping and assistance for light installation.
Lights from Louis Poulsen are synonymous with class. The AJ Eklipta is a wall scone that sets the mood for a comfortable and welcoming evening. The light is uniform and glows behind triple layers of Opal glass. There is a soft halo around the wall scone that viewers never fail to notice. The white light is encased in a white painted metal scone.
The Campbell 275 is a suspension lamp inspired by natural light refraction. A diffused glow surrounds the fixture that has two separate glass sheets. It creates a 3D light scenario due to the stripes on the glass and its shade. It is a unique lamp that is reminiscent of Danish luxury. It weighs 17 pounds. Among all the contemporary lights sold on the web store, Bollard outdoor lights continue the theme of three glass shades.
Matte white interior surfaces of the shades diffuse the light and are ideal for the doorway, perimeters, or a private garden. It stands on a black stem.
Going by the customer feedback, this new collection of upgraded Louis Poulsen lights has become a must-have décor element in upscale homes. Sue Johnson, from Miami says, "I was amazed by the fast delivery. I've found the best lamps for my home at incredible prices." Cecil Thomas from New Jersey has a similar opinion. "I don't think I'll ever go anywhere else for modern light fixtures for my home. I look forward to buying some more lights from Lighting55 soon. Why look for local items when I've got international brands delivered right to my doorstep?"
Lighting55 is an industry leader in stocking high quality urban lights from European brands. It enjoys a global clientele, and for the past 15 years it has supplied lighting in the U.S. and abroad. It is a specialist in authentic European lighting that includes lights from France, UK, Denmark, and many other European nations. The company provides free light shipping to global destinations and has skilled electricians in its panel to help customers install the lamps at home. They have been awarded the AAA position by the Best Business Bureau and sell creative lights made by renowned international designers.