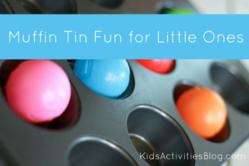 Keep one year olds busy and happy with a simple muffin pan game.
Dallas, Texas (PRWEB) June 09, 2013
Ever wonder what else to do with the tot? Look no further. Kids Activities Blog has released a laundry list of fun engaging games for one year olds together with a list of amazing baby toys recommended by seasoned moms.
Going to the store with the tot in tow is not necessary for these game ideas. Playing a muffin tin game with the little ones is one of the simple fun games that tots will love. Materials needed for this game are a muffin pan and some colorful plastic balls. Ping pong balls may even make for some interesting sound and bouncing during the activity. Provide a bucket of plastic balls and let the tot have fun placing the balls inside the muffin holes and letting them fall out again.
Among the best baby toys recommended by moms are Sassy Ring O'Links Rattles, activity gyms preferably with music to keep the little one busy enough for Mom to take a shower or start dinner, a Jumparoo or Exersaucer and Sophie the Giraffe Teether who has become a staple in many homes.
For more baby toy ideas and to get additional fun games for one year olds, check out Kids Activities Blog this week. Come get inspired to keep the one year olds busy and happy reaching their next developmental milestone.
About Kids Activities Blog
Kids Activities Blog is a website created by two moms (who collectively have 9 children), Rachel Miller and Holly Homer from June Cleaver Nirvana. It is their daily goal to inspire parents and teachers to play with kids. This interactive website publishes simple things to do with kids twice a day. Kids Activities Blog is a great tool for moms and teachers to find kid-friendly activities that create memories and sneak learning into the fun.