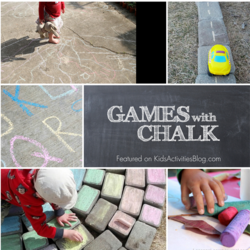 Replicate Michelangelo's Sistine Chapel paint to create stunning sidewalk art.
Dallas, Texas (PRWEB) June 11, 2013
Summertime is around the corner and chalk is a kid's favorite outdoor activity. Unique games with chalk and a brilliant egg chalk paint recipe take chalk playtime to a higher level. Seasoned moms on Kids Activities Blog have posted their favorite chalk activities to share with everyone's summer bucket list.
Games with chalk can be so much more than the simple hopscotch and stick figures. Creating an outdoor race track for toy cars is much more fun. Simply layout pave stones and use chalk to draw the road lines.
Teach letter recognition by writing out the alphabet on the sidewalk. Then use a hockey stick and a puck and name the letter it lands on.
Use extra pave stones and make a rainbow out of them. Color the stones according to the rainbow colors. Trace the child's shadow and use it to create a sundial or draw a giant tic-tac-toe board and toss bean bags into the claimed squares.
Making paint out of egg and chalk is what Michelangelo used to paint the Sistine Chapel. Replicate his paint recipe using broken and ground up chalk pieces and egg to create stunning looking, super brilliant, sidewalk art.
For detailed instructions and to get additional fun chalk ideas, check out Kids Activities Blog this week. Come get inspired to let the kids have unique fun playing with chalk this summer.
About Kids Activities Blog
Kids Activities Blog is a website created by two moms (who collectively have 9 children), Rachel Miller and Holly Homer from June Cleaver Nirvana. It is their daily goal to inspire parents and teachers to play with kids. This interactive website publishes simple things to do with kids twice a day. Kids Activities Blog is a great tool for moms and teachers to find kid-friendly activities that create memories and sneak learning into the fun.