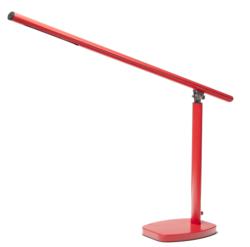 Mighty Bright's Expanded Line of LED Task Lights and LED Floor Lights Offers Sustainable Lighting Solutions for Corporate Workplaces, Hospitality Environments and Residential Interiors.
Santa Barbara, CA (PRWEB) June 03, 2013
Mighty Bright, designer and manufacturer of innovative LED lighting products, will unveil three new LED task and floor lights designed for corporate workplaces, hospitality environments, and residential interiors markets at NeoCon 2013, June 10-12, 2013, at The Merchandise Mart, Chicago. The lights can also be seen at http://www.lux-led-lights.com.
LUX LED Lights by Mighty Bright is the contemporary solution for task lighting. Utility and design are paramount for LUX LED Lights — fit a LUX Light into any space for an exquisite focal point or to brighten a dark corner. LUX high-performing LED task lights reduce energy usage while enhancing spaces with exceptional style. Streamlined and sophisticated, LUX LED Lights are functional, eco-friendly and embody a simple aesthetic elegance, compromising neither form nor function.
At NeoCon 2013, Mighty Bright will showcase three new lights designed to enhance spaces and provide the best sustainable lighting available on the market today:
LUX Wired LED Task Light: Designed to increase desktop functionality, the LUX Wired LED Task Light combines the sustainability of LED lighting with the convenience of an easy-to-access integrated power outlet. With a fresh, stylized composition, the light features eco-friendly LEDs on a jointed, pivoting arm for maximum reach in all spaces. The base of the LUX Wired LED Task Light doubles as a charging station with an integrated 120V power outlet to keep mobile devices, laptop computers, and other electronics constantly charged and within arm's reach.
LUX Big Bar LED Task Light: Available in custom colors, the LUX Big Bar LED Task Light features an extended arm, adjustable light output, and touch-on/off power. Sleek and modern, the LUX Big Bar utilizes the most advanced technology to project bright white light from its cool-to-the-touch frame.
LUX Dome LED Floor Light: The LUX Dome LED Floor Light, a larger variation of the popular LUX Dome LED Task Light, features bright, sustainable LEDs to transform any space into an energy-efficient inspiration zone. The fully adjustable LUX Dome LED Floor Light — with its eloquent finishes and bold design — integrates beautifully into any décor and pairs perfectly with the LUX Dome LED Task Light.
Visit Mighty Bright at NeoCon 2013
Visit booth #8-6114 to see the complete line of LUX LED Lights by Mighty Bright.
About Mighty Bright
Behind every LUX LED Light you'll find Mighty Bright, designers and manufacturers of portable LED lights. Since 1985, Mighty Bright has blended ease of use and affordability with impressive functionality, durability and portability. Our LED lights make reading, writing, working, and day-to-day life easier.
We have taken our years of LED expertise and applied them to the LUX line to produce the most fashionable and energy-efficient LED lights for home and office on the market. And since LEDs provide thousands of hours of light, each purchase of a LUX Light is earth friendly. Contact Mighty Bright: 800.922.3233 or visit http://www.lux-led-lights.com.