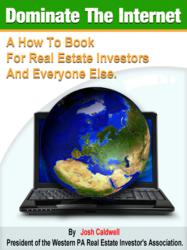 "There are a lot of shady companies doing credit repair. Paul Ritter and his company Credit Repair Network are legitimate. Nobody does it better than Paul" Josh Caldwell President of WPREIA
Pittsburgh, Pennsylvania (PRWEB) June 03, 2013
The Pittsburgh based Western Pennsylvania Real Estate Investors Association has identified a national leader in credit repair as a 2013 recipient of the group's community service award. Credit Repair Network is a Pittsburgh based company that helps people restore their credit scores all across America. The ethical and honest nature of this company's business practices was what caught the attention of the real estate investors group's board of directors.
Many of the clubs investor members have used the services Credit Repair Network to help potential home buyers become actual home buyers. It is not uncommon for real estate investors who have a house for sale to try and assist a buyer. What Credit Repair Network offers the investor, is a "done for you" way to help future buyers.
Real estate investors and real estate agents are always on the lookout for a company that can make it easier for someone with bad credit or slow credit to buy a house. Bank standards are pretty rigid. People with low credit scores can't go to a bank manager and get a loan approved. The Federal Government has changed the rules so that banks cannot afford to make loans to anyone with questionable credit. As a consequence of government interference with the loan market, many Americans simply do not qualify for a mortgage. The credit score of an individual works like a report card for the bank, and people are graded as either a pass or a fail.
The Federal Government interfered with the banking system and caused the housing crisis in the first place. The Community Reinvestment Act actually mandated that banks make loans to sub-prime borrowers. Sub-prime was a euphemism for people who are likely to pay back a loan. When the banks were forced to make more than 50% of their loans to people who weren't likely to pay the money back, it became inevitable that they system was going to crash. In true government form, the fools who forced the banks to make bad loans did nothing to fix the problem. They did what politicians do; they blamed the banks for doing what federal regulators forced them to do. Worse yet, the federal government changed the rules to make it harder for borrowers with bad credit to get a loan. This had the market crushing effect or taking the discretionary leeway away from individual banks, and created a climate of fear where banks are required to make no questionable loans, or face the possibility of a federal take over and bank liquidation.
As a result of government and bank practices, buyers who want to buy a home need to find someone who can help them raise a credit score. There are a lot of disreputable companies and predators in the credit repair industry. There are no licenses or professional standards that regulate the industry. Nearly anyone who wants to charge money to clean up the credit of an individual can stand up a web site and claim to be a credit repair expert.
Credit Repair Network President Paul Ritter and his team have demonstrated a decade plus track record of helping people repair their credit, ethically. They are directly responsible helping people in all fifty states to achieve their dream of home ownership. Credit repair is an industry with a fairly high number of shady characters and bad actors who prey on people who need help. The high moral standards of Paul Ritter and his team are what lead to the Western Pa Real Estate Investors Association to recognize Credit Repair Network for 2013. Joining the 2013 recipient list is Zoe's New Beginnings, a charity that help mothers of babies born prematurely, and several other deserving groups. Look for future announcements from the Western PA Real Estate Investors Association.