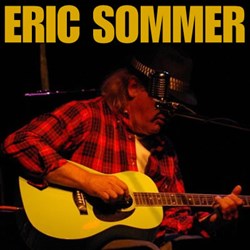 Authentic, inspiring and a phenom guitar player and singer - we have a huge talent in our midst!
Steve Kline
Record Roundup
Philadelphia, PA (PRWEB) June 11, 2013
Eric Sommer is doing a lot this summer and it's hard to keep up.
Concerts, the new record RAINY DAY KARMA, endless roadshows and now two books of prose and short-stories are making it hard to keep track of this Americana Artists' constant - and prodigious - output.
This ERIC SOMMER MIDWEST TOUR starts in Winona, Minnesota and ends in Athens, Ohio at The Ohio Brew Festival; the tour includes familiar motels and parking lots this Artist knows well from years on the Midwest Music Circuit and Eric Sommer and the Tour Crew are looking forward to re-connecting with fans and supporters across the area.
June 15 - WINONA, MN - acoustic cafe
June 17 - LA CROSSE, WI - the root note
June 21 - SAGINAW, MI - white's
June 25 - CHICAGO, IL - uncommon ground
June 26 - ANN ARBOR, MI - ann arbor farmers market
June 27 - COLUMBUS, OH - scarlet and grey
June 28 - KENT, OH - checkers & trophies
June 29 - ATHENS, OH - jackie O's
This style of "small room tour" is what Mr. Sommer strives for - it features audiences under 350, in rooms that are accessible with ticket prices that are affordable. This combination has proven very successful and one that Eric Sommer has become known for - and fans are thankful for.
His new record with The Solar Flares has gotten great reviews for its combination of jazz and roots rock, acoustic guitar and outstanding vocals - the record was recorded in Pittsburgh and vocals were mixed in Nashville by Jeff Silverman.
Mr. Sommers' live show is hard to describe - 8 guitars, 6 amps of various shapes and sizes, a pedal board or two for the visual set, and for the ears, it's a study in sonic feedback, bending and layered overtones... it other words, it's something "you gotta see to believe"!
Eric started his musical career in the Boston area and has been a regular player on many national tours and showcases. His influences are as diverse as Charlie Parker, Townes Van Zandt, Steve Earle, Steve Howe, The Beatles and The Ramones. Mr. Sommer's current project with power trio "The Solar Flares" shakes up Chet Atkins and David Bromberg influences with those of ZZ Top, Elvis Costello and Bruno Mars - a remarkable mix.
With open tunings, slide guitar, lap-slap tone guitar and a remarkably aggressive fingering style approach, watching Eric Sommer will make you jump out of your seat and holler for joy! There are very few players who have maintained this authentic American style of guitar and Eric Sommer is one of the very best.
Amen.
For Music Samples please visit Eric Sommer online for additional schedules or contact him at eric(at)ericsommer(dot)com or call 202-255-1995. Additionally, you can find Eric Sommer on Facebook, too. RAINY DAY KARMA is also available on iTunes and CDBaby.
Eric Sommer is represented by Clyde is Thinking, and PR programs are managed thru MTG/NY; For more information, promo/appearance requests or to set up an interview, please contact Tom Monihan 202-255-1995.