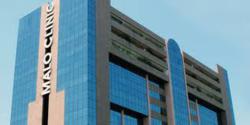 Smile With Confidence
Hove, East Sussex (PRWEB UK) 3 June 2013
East Sussex dental practice Brighton Implant Clinic recently sent three of their dentists to a training course for comprehensive instruction in effective all-on-four treatment practices at the Malo Clinic, the world's largest dental implant clinic. The seminar was a two-day event which took place in Lisbon, Portugal, and was conducted by Dr. Paulo Malo, the pioneer of the all-on-four surgical procedure. It gave participants an overview of the treatment from its beginning to end.
"Living out our commitment to our three core principles – "care, compassion, and credibility" – means we stay up-to-date with the latest procedures in dental treatments, especially our specialty procedure, dental implants. One of the latest developments in dental implant treatments is the all-on-four procedure," says Dr. Bruno Silva, Principal Dentist of Brighton Implant Clinic. "The all-on-four treatment is an effective, immediate tooth replacement solution for patients who require bone grafting for dental implant surgery. Many patients cannot engage in bone transplants because of health concerns, and even if they can have surgery done, recovery from bone transplant surgery takes months. The all-on-four treatment eliminates the health risks and time constraints presented by performing bone grafting and then dental implants placement."
The all-on-four procedure involves placement of 12 fixed teeth on just four implants and uses angulated back implants for the full advantage of existing bone support. Surgical operations for the all-four procedure typically last around 30 minutes. The procedure enables patients to immediately replace missing teeth with fixed teeth and almost always allows them to bypass bone grafting or any type of lower or upper jaw reconstruction surgery. Full treatment requires only one or two office visits, with the first trip involving the fitting and placement of temporary teeth, and the second involving application of final, stronger permanent teeth.
"We're pleased to offer our patients this latest innovation in dental excellence," continues Dr. Silva. "All dental implants placed in our office are custom-made for each patient, and they function and feel like natural teeth. They're designed to give our patients maximum support for a lifetime. Anyone interested in our treatment services can call us or visit our website to schedule an absolutely free first appointment for evaluation."
Brighton Implant Clinic has three clinic locations located in Hove, Halisham, and Brighton, and is a two-time award winner of the Private Dentistry Awards. The practice's staff has collective experience of decades of implant placement and treatment services and is internationally reputed for its world-class patient care and top-quality dental implant and treatment services, with patients venturing from all over the UK and as far as Australia and the United States for treatment.
Please visit http://www.brightonimplantclinic.co.uk/ to learn more about the practice's services and schedule a free initial consultation.