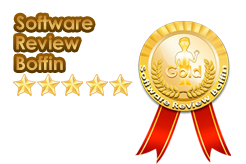 Blue Iris is according to the Boffin reviewers a high-quality video processing software that generates excellent-performance videos.
New York City, NY (PRWEB) June 05, 2013
Recent reviews of video software by review website Boffin revealed the top video processing software for 2013. According to the Boffin team, Blue Iris rightly deserves the five-star award along with the first place position.
Blue Iris is according to the Boffin reviewers, a high-quality video processing software that generates excellent-performance videos. Blue Iris is a must-consider video security and webcam software that allows efficient monitoring of remote places, such as business offices, home, or other surveillance-able places. Blue Iris offers video capturing along with image capturing from different styles and types, including webcams, network IP cameras, camcorders and of course, through PCs and laptops.
The Boffin reviewers seemed impressed by how straightforward and logical the video capturing process is, requiring minimum technological skills and zero effort from the user. Speed-wise, Blue Iris is also efficient; the user has full control over the video processing management resulting in quick and high-quality video results.
Blue Iris offers the whole range of tools necessary for quality processing and clip viewing. In addition, Blue Iris uses motor or sound sensors to initiate video capturing, an audio recording possibility and advanced data encryption to ensure the privacy of the produced videos.
In terms of webcams, Blue Iris includes top-notch webcam features, including remote management of webcams, video streaming of remote video capturing and image posting to web servers for smartphone or web-based viewing.
According to the Boffin reviewers, Blue Iris is a well-engineered video capturing software that offers an across-the-board set of features making it a noteworthy choice for consumers. Wishing to clarify the ranking process taking place, the Boffin reviewers explained that the top three software, Blue Iris, DVD Santa and DVD Cloner 2013, were similar in their features and capacities and that the top three are subject to re-assessment at any given time. In order to have up to date reviews, the software are regularly re-evaluated to ensure accuracy and relevancy of the reviews, the Boffin reviewers asserted.
Software Review Boffin reviews the latest technological products in demand on the market right now. They provide expert, honest and straightforward reviews so customers can objectively measure if a product, especially software is well worth it before making their purchase.
To learn more about Software Review Boffin, visit http://www.softwarereviewboffin.com.