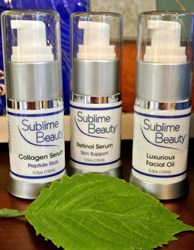 Any one or all three of our superb serums are on sale this weekend only: Retinol Serum, Collagen Peptide Serum and Luxurious Facial Oil.
St. Petersburg, FL (PRWEB) June 01, 2013
The special weekend discount on the Sublime Beauty® serums ends Sunday night at midnight. "We are offering 30-percent off for this weekend only," says Kathy Heshelow, founder at Sublime Beauty®. Use the code SERUMS30 at checkout.
Any one or all three are available (while supplies last) in this special offer. These include the Retinol Serum, Collagen Peptide Serum and Luxurious Facial Oil Serum. "Our Retinol Serum is non-irritating yet effective at 10 percent, with the added bonus of vitamin C at five percent. vitamin C is an important anti-oxidant, while Retinol is one of the best anti-aging components you could hope for," says Heshelow.
The Luxurious Facial Oil is fully organic with six oils that work to hydrate, moisturize and heal. They include grape seed oil extract, avocado, jojoba, macadamia, oil of tamanu and noni. "There is no better pure facial oil on the market," says Heshelow.
The Collagen Peptide Serum is a clear, easily absorbed serum that helps encourage more collagen production, essential for youthful and firm skin. It includes the proven component, Matrixyl 3000, known to enhance up to double the collagen production. It also includes aloe for excellent moisturizing action.
About Sublime Beauty®
Sublime Beauty® is an anti-aging skin care company that focuses on quality products.