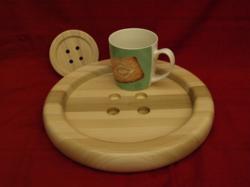 "Learn the Tax and Regulatory laws in your area, manage your finances closely and plan ahead for any surprises," Ciaran Connolly, Co-Founder of ProfileTree
London, UK (PRWEB) June 01, 2013
When Pat Murphy was inspired to leave his career in IT and focus on using and improving the craft of Woodturning as a viable business, it was a risk worth it all. He speaks to ProfileTree about the business of Woodturning.
Speaking of his inspiration, Pat said, "I always had an underlying interest working with wood ever since my father showed me how to do (it)."
As for a day in the life of a Woodturner, Pat said, "Check email, check Facebook, and check what orders need meeting and the priorities. Go to the workshop and produce."
Pat advices small business owners with one thing, "Don't under estimate how much time needs to be devoted and ensure you look at the Tax and Regulatory aspects of the chosen business."
Ciaran Connolly, Co Founder of ProfileTree, stresses the importance of studying the financials of it all, "Learn the Tax and Regulatory laws in your area, manage your finances closely and plan ahead for any surprises,"
Profile Tree's main goal is to help small business owners reach new customers every day with the most innovative online marketing tips and techniques.
About ProfileTree: ProfileTree is a free listing service where self employed and small business owner can create an online marketing profile. From Pencil or Portrait Artist to Self Employed Service Providers - anyone can create a skills profile on ProfileTree for free.