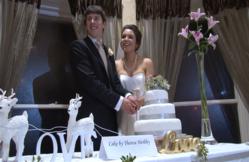 "Getting an online business profile for a start-up company is a key pillar that cannot be missed or ignored, it can support or demolish a brilliantly executed business." - Ciaran Connolly, Co-Founder of ProfileTree
London, UK (PRWEB) June 05, 2013
The bride and groom spend days and months planning their big day and yet the actual day goes by in a flash. So getting a person or a company to capture those happy moments is essential. ProfileTree spoke to the owner of Gaffey Productions about capturing these precious moments on film.
Gaffey Productions is a family run business, this family is passionate about videography and photography and have turned their passion into a successful business capturing the most special moments in their customers lives.
One of the owners spoke about the family's involvement in videography, saying, "We always had a love for everything camera and editing related, recently we had to opportunity to transform our love and hobby into Gaffey Productions."
Their biggest challenge was getting the word out, getting customers to know the business. Their advice to anyone starting a business is: "Start slow, love what you do & be patient – success does not come overnight. It's also important to network as much as you can. Online – offline, it doesn't matter."
According to Ciaran Connolly, Co Founder of ProfileTree, "Getting an online business profile for a start-up company is a key pillar that cannot be missed or ignored, it can support or demolish a brilliantly executed business."
Profile Tree's main goal is to help small business owners reach new customers every day with the most innovative online marketing tips and techniques.
About ProfileTree: ProfileTree is a free listing service where self employed and small business owner can create an online marketing profile. From Pencil or Portrait Artist to Self Employed Service Providers - anyone can create a skills profile on ProfileTree for free.