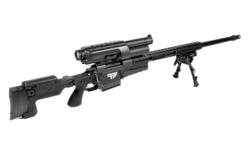 The smart rifle's first magazine cover.
Austin, TX (PRWEB) June 01, 2013
The SHOT Show special issue of Gun World Magazine has hit newsstands, and features a variety of new firearms available for purchase in 2013. Featured prominently on the cover is the TrackingPoint XS1 .338 Lapua Magnum precision long range hunting rifle, the world's first Precision Guided Firearm. Also on the cover are Benelli's 12GA Super Vinci shotgun, the Mossberg MVP bolt gun, and the S&W 340 PD .357 Magnum. This marks TrackingPoint's first magazine cover since the company launched.
TrackingPoint's smart rifle made its debut at the industry trade convention SHOT Show in Las Vegas in January, showcasing through live fire, simulators, and in-depth video the capabilities of Tag, Track, Xact shooting technology.
Gun World Magazine is devoted to shooting, hunting, classic firearms, reloading, gunsmithing, and accessories. Each issue of Gun World includes how-to articles, product and component evaluations, as well as special reports on significant issues. Gun World features regular columns on handguns, collectibles, knives and gun legislation.
The rifle shown on the cover is a .338 Lapua Magnum precision rifle. The XS1 is the largest-caliber TrackingPoint XactSystem currently available. It offers the longest effective range of any Precision Guided Firearm. The XS1's performance is driven by a bolt-action, .338 Lapua Magnum Surgeon™ XL action and uses 300 gr. Sierra™ Open-Tipped Match XactShot™ ammunition by Barnes Bullets, loaded to +/- 10 fps standard deviation muzzle velocity.
TrackingPoint precision guided firearms are long range rifles designed for the technology-forward hunter and shooter. PGF's are capable of making shots up to 1,200 yards (depending on model) with an extremely high first shot success probability, making them the most accurate firearms in the world.