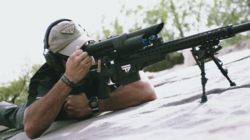 Smart rifles have begun arriving in customers hands, and comprehensive documentation is now online.
Austin, TX (PRWEB) June 02, 2013
Wednesday, March 15th, Precision Guided Firearm manufacturer and Texas applied-technology startup TrackingPoint began shipping the first of its .338 Lapua and .300 Winchester precision rifle systems to customers. Since launching in January of 2013 and announcing a partnership with top firearms maker Remington earlier this month, TrackingPoint has seen overwhelming demand for their smart rifles, and recently closed their online store in favor of an application process for their product waiting list.
With such a complicated set of technologies in one package, there comes many questions from the online community. The TrackingPoint PGFs account for distance, temperature, pressure, cant, coreolis effect, spin drift, and other complex ballistics to help ensure accurate shots at long range, and incorporate Linux, X++, Open GL and more inside the Networked Tracking Scope. To help provide insight for their new customers, TrackingPoint has uploaded a series of videos to their YouTube page showcasing intricate step-by-step usage instructions for all of their firearm processes. The videos are available at http://tracking-point.com/precision-guided-firearms/owners.
The videos include how to use the Tag, Track, Xact system, working with the TrackingPoint and Showview iOS and Android Apps, maintaining a Precision Guided Firearm, dialing in and accounting for wind, and a comprehensive owner overview of the technology.