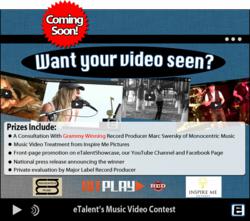 "This is the perfect contest to help up-and-coming musicians get their video in front of larger audiences and in the face of industry VIPs
New York, NY (PRWEB) June 06, 2013
Musicians can make a spectacular, soul searing, hit-making video—but if nobody sees it, what's the point? eTalentShowcase.com is out to make sure those videos garner the attention they deserve with a new contest.
And these days, musicians need the help. The digital age along with social media has been a great equalizer in the music industry. Never before have musicians had so many ways to reach an audience and cultivate a fan base. On the flip side, the independent music scene has never been so crowded with so many artists shouting to be heard. Getting a track or video in front of a large base of listeners is tricky. And plenty of super talented musicians fail to breakthrough the clutter.
To help emerging vocalists and bands reach a broader base, eTalentShowcase.com, the premier online talent site, is hosting eTalent's Best Music Video contest. Calling on musicians to submit unique videos that capture their best work, the contest kicks off June 14th and will be open for submissions until July 9th.
Ten finalists will be selected by eTalentShowcase.com judges; the voting will then be open to the fans on the talent site's Facebook page. The finalists stand to gain exposure to thousands of eTalentShowcase members. And the winning video will receive a suite of prizes designed to capture the attention of fans and industry VIPs. The package includes:

A private consultation with Grammy Award Winning Record Producer Marc Swersky of Monocentric Music.
A band/musician review by Jim Testa of Jersey Beat. Winning video and review will be published on the Jersey Beat web site.
Social media and online promotion: The winning video will be featured on eTalent's Youtube Channel as the featured video for one month. It will also be featured on the site's home page, plus eTalentShowcase.com will share and promote the winning video across all social media platforms.
A treatment for the winner's next video from the production company Inspire Me Pictures.
National press release announcing the winner and a feature profile on eTalentShowcase.com's homepage.
An evaluation from Major Label Record Producer Phil Garland of Hit Play Records.
"We know that some really great music videos never get the attention they deserve," says Ed Olimpio, vice president of marketing. "This is the perfect contest to help up-and-coming musicians get their video in front of larger audiences and in the face of industry VIPs. We hear it all the time from musicians, 'if we could just get people to see the video...'" he says. "Well, this is the opportunity they've been clamoring for because the winner of this contest is going to get the kind of exposure you can't buy. Plus, eTalentShowcase.com is designed to be media centric, so producers and booking agents can easily search and find video. Other talent sites just don't offer that layer of functionality. We think this contest will be a win for musicians and a win for producers looking to discover fresh talent."
About eTalentShowcase.com
eTalentShowcase.com is a social media site that provides artists and entertainment industry professionals with powerful, intuitive tools to connect, promote and prosper online. The site offers job listings, free profiles, original content, contests and a base of active, engaged fans. eTalentShowcase, Where Talent Gets Discovered.