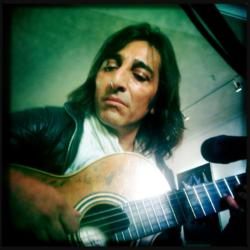 Miami, FL (PRWEB) June 05, 2013
Florida's Hollywood is ready for its close up. The South Florida coastal community with the famous name will take the spotlight on American Public Television's Music Voyager, a music-themed travel show that airs on Public Television and Create TV in North America and on a host of major networks around the world. Music Voyager: Hollywood will make its broadcast premiere locally on South Florida's WPBT2 on Tuesday, June 11, 7:30 p.m. The episode will debut nationally on the Create TV network on Tuesday, July 23 and Thursday, July 25th at 9:30 a.m. and 3:30 p.m. each day. The episode will be broadcast as part of Music Voyager's fourth season.
Hosted by ethnomusicologist Jacob Edgar, founder of the wildly eclectic Cumbancha label and curator of the Putumayo label's popular world music compilations, the 30-minute program follows Edgar as he takes in Hollywood's sun-drenched beaches, historic architecture, diverse dining and wide-ranging nightlife. But it's the city's rich cultural identity that gets the most attention.
Shot in gorgeous HD, this beautifully filmed exploration of Hollywood's emerging music and arts scene features live performances by Spanish flamenco-pop star Antonio Carmona, captured at the Hollywood ArtsPark Experience: Spain concert produced by The Rhythm Foundation in Downtown Hollywood in December 2012 to kick off Viva Florida 500. Renowned as the voice of the Spanish flamenco-fusion act Ketama and now enjoying a successful solo career, Carmona can be seen performing his hits with top South Florida musicians at the event commemorating the 500th anniversary of Ponce de Leon's arrival in Florida. The live concert footage includes Carmona's high-energy duet with South Florida singer-songwriter Javier Garcia, and an impromptu percussion solo on the 'cajon' drum beneath the park's majestic Baobab trees that shows why Carmona is one of the instrument's most-recorded virtuosos. Carmona's prodigious mastery of modern flamenco is also on display in a lovely sequence shot at the Art & Culture Center of Hollywood. Surrounded by colorful paintings and abstract images, Carmona accompanies himself on acoustic guitar for a soulful solo rendition of his duet with Alejandro Sanz, Para Que Tu No Llores, while the camera swirls around him, intimately capturing every nuance of the performance.
Music Voyager: Hollywood was ground-produced by The Rhythm Foundation's James Quinlan and features home-grown musicians and artists with Spanish roots and world-class talent. Cuban-American guitarist Eddy Balzola is featured playing solo at the Riptide Hotel on the Broadwalk and with his fiery Afro-Cuban jazz group Oriente at the Montecristo Lounge during the Downtown Hollywood ArtWalk. Also in the spotlight is Hollywood-raised muralist David "Lebo" LeBatard discussing his music-themed contribution to the Downtown Hollywood Mural Project. Host Jacob Edgar's visits to quirky local hot spots like Resurrection Drums, Cuenca Cigars, Le Tub and South Florida community public radio station WDNA get good air time too, giving viewers a glimpse of some of the area's funkiest institutions.
American Public Television's Music Voyager is currently broadcast in more than 170 million homes across the world, is translated into 33 languages, and is available as in-flight content in over a dozen airlines. Domestically, the program reaches 87% of all PBS households, covering all major markets. The show has featured other American cities like Nashville, Memphis and New Orleans, as well as entire countries like Colombia, India, Jamaica, Turkey and Israel. Music Voyager's producers have been invited to screen the complete Hollywood episode at MIPCOM, a major international TV and entertainment marketplace held in Cannes, France in October 2013.
For more information, contact Manuel Pila at 954-924-2980 or mpila(at)hollywoodfl(dot)org.